After completing 88 days of farm work to secure a second-year visa, we had to put it to good use. We stayed on Australia's east coast for the duration of our first-year visa and decided to explore the west coast with the second-year visa. We lived and worked in Perth for 9 months to fund a road trip from Perth to Cairns and a trip across South East Asia.
We lived in the car during our east coast road trip and planned to do the same on the west coast. There are plenty of Wikicamps along the west coast. We decided to upgrade our accommodation on wheels to a proper bed, rather than just throwing a mattress in the back as we did previously. A couple of hours graft and $70 at Bunnings Warehouse and our Nissan Pathfinder had an official bedroom.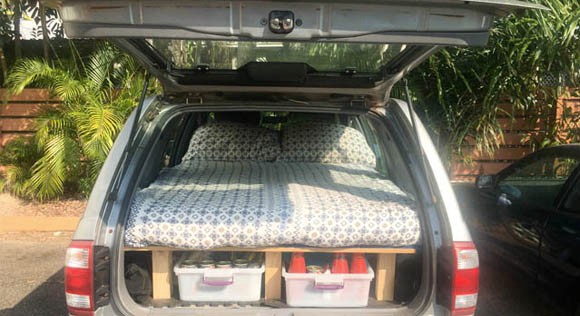 National Parks Pass
Visiting National Parks in Western Australia isn't free and it is typically $13 per vehicle per day. We planned to visit a number of National Parks and purchased a WA Holiday Pass. The Holiday Pass costs $46 per vehicle and grants you free entry to every WA National Park for 4 weeks. It's definitely worth buying; we visited smaller National Parks that we wouldn't have bothered to pay $13 for and we never had to worry about having a spare $13 in change when visiting the parks. The Holiday Pass paid for itself in the first week.
Vodafone
A quick side note about mobile phone signal in Western Australia: Vodafone is terrible. Vodafone was great on the east coast and was fine in Perth, but as soon as we started the road trip, signal was non existent. We had to switch to Telstra in Broome. We bought a SatNav for the trip, which was definitely needed as we could not rely on Google Maps with poor mobile reception.
Itinerary
We were driving to Cairns to sell the car. We purchased the car in Queensland and had to sell it in Queensland. The road trip was split into three sections
Perth to Broome
Broome to Darwin
Darwin to Cairns
Best time for a Western Australian Road Trip
We timed our trip for the Aussie winter. We knew that Northern Territory regularly hits 40+ degrees in the summer. We didn't want to live out of a car in the extreme heat and was conscious of extreme sunburn since we would be outdoors for the majority of the trip. I am glad we completed the trip in winter – we left Perth on 1st June. The temperature was 20 degrees plus for the majority of our trip. Summer is also Australia's wet season with the risk of extreme rainfall and roads flooding. A downside of completing the trip in winter was the early nights. The sun set at 6.00pm and we often ate dinner in the dark. Early morning and early nights was the only answer.
Driving from Perth to Broome
First stop: Yanchep National Park – 50km from Perth
Yanchep was our first stop. It is only 50km outside of Perth but it was a worthwhile pitstop before heading to Nambung National Park.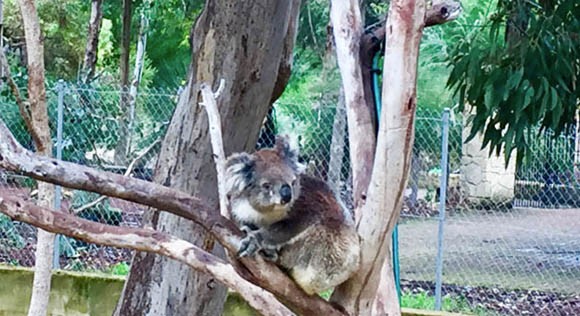 The Koala Boardwalk is the only sanctuary of koalas in Western Australia. Koalas are not native to Western Australia and Yanchep is a great place to see them if you haven't yet seen a koala in Australia. There is a boardwalk through eucalyptus trees that takes you close to the koalas. It is a small sanctuary and the boardwalk won't take up much of your time. There is a small walk around a lake in Yanchep and there are plenty of friendly kangaroos. There are larger walks in Yanchep National Park but an hour was enough for us.
The Pinnacles (Nambung National Park) – 170km from Yanchep
The Pinnacles are in Nambung National Park. Although they are just rocks sticking out of the ground, it was nice to walk around them for 30 minutes.
You can drive around the pinnacles in a 4km loop or wander round them on foot. They are very crowded near the entrance but a 10-minute walk will take you away from the crowds to secluded areas and have some pinnacles to yourself.
Geraldton – 240km from Nambung
We didn't stop in Geraldton for long. A quick pitstop to refuel. We were too excited for Coral Bay and Exmouth to hang around.
Pink Lake (Port Gregory) – 100km from Geraldton
Unfortunately the Pink Lake did not live up to its name. Brown Lake would have been more fitting. We had seen some amazing photographs online and was expecting much more colour in the lake. We had arrived early morning at Pink Lake, which is a good time to avoid the crowds but not a great time to see the colour. Pink Lake is on route to Kalbarri so it is worth having a look as you drive by.
Kalbarri – 65km from Pink Lake
Kalbarri is amazing. For me this is where the road trip really started. If you don't have much time, just complete the 9km loop walk. It was the highlight of Kalbarri. There are sections of Kalbarri that you need to pay for and some sections are free.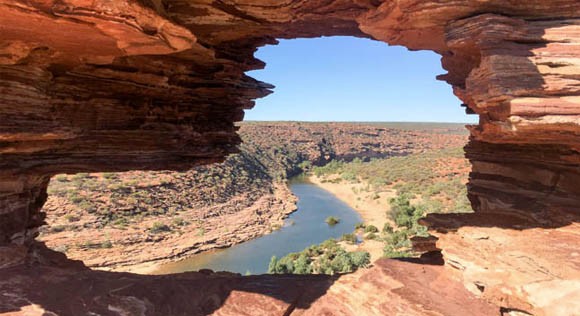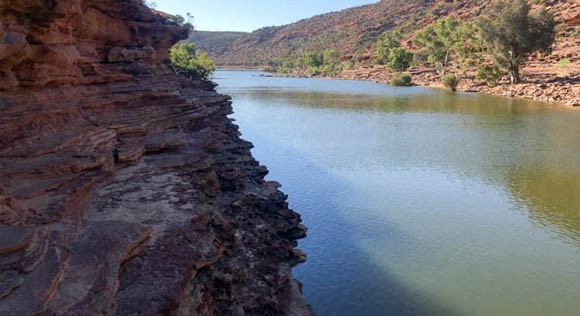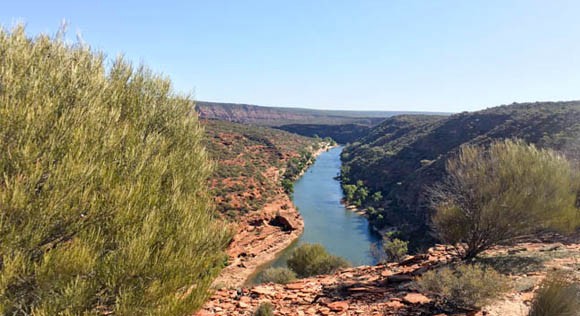 Free
The Bigurda Trail is a coastal walk from the Natural Bridge to Eagle Gorge. We walked a small section of the Bigurda Trail, but a 16km return walk with limited views didn't seem worth the effort. We saw a pod of 9 dolphins but didn't see any whales. We drove to The Loop Trail and stopped off at Eagle Gorge. It was a nice view but it certainly wouldn't have justified a 16km hike from Bigurda Trail. Ross Lookout is also free and is on the way from Kalbarri to Shark Bay.
Paid
You have to pay for the good stuff in Kalbarri (or it's free with your Holiday Pass). After paying your entry fee, the straight road reaches a T junction; it's one way for The Loop and the other to the Z Bend. We completed The Loop and unfortunatley ran out of time and never had chance to complete the Z Bend. The Loop is a 9km walk with the iconic Natures Window at the very start of the walk. The walk has a lot of variety including cliff-top walks and views, small sections of scrambling and gentler walks by the river. You will see plenty of kangaroos too.
Shark Bay and Monkey Mia – 250km from Kalbarri
Hamelin Pool and the Stromatolites
You will pass Hamelin Pool and the stromatolites when driving to Shark Bay. The stromatolites are one of the oldest living creatures on Earth and a short boardwalk provides plenty of information about the stromatolites and a chance to view them up close.
Denham
Denham Information Centre is the place to book your campsite. There are no free campsites in Shark Bay. We stayed at Eagle Bluff for $15. The campsite was spacious and secluded and we had access to a private beach. There are no facilities but it was a great campsite. The Eagle Bluff boardwalk is a cliff-edge walk with a lagoon below. The lagoon often has sharks and rays but unfortunately we didn't see any on our visit. Denham is a small and scenic place but there is not much to do.
Monkey Mia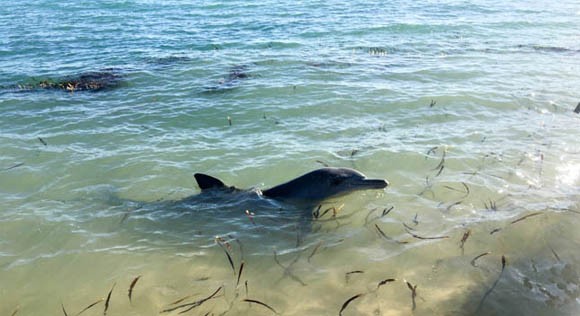 The Dolphin Experience at Monkey Mia is a must do. It costs $12 per person and the wild dolphins interact with Monkey Mia's staff and volunteers. You have the opportunity to wade into the sea and hand feed the dolphins a fish. The staff feed the dolphins a small percentage of their diet to ensure the dolphins still hunt and teach the baby dolphins to hunt too. Once the experience is over, you can stay around Monkey Mia and spot the dolphins swimming around and hunting fish.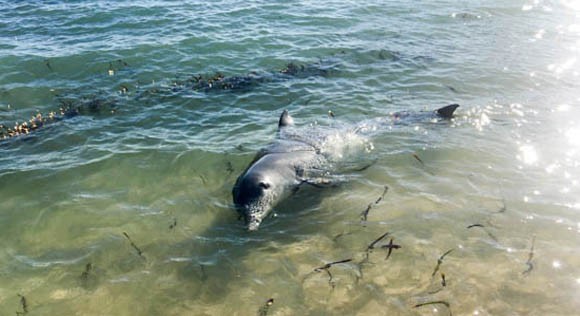 There is a swim exclusion zone to stop people interacting with the dolphins. You can swim in other areas, where there may be dolphins present too, but the main exhibition area is a swim-free zone.
If it wasn't so cold and windy I would have definitely hired a sea kayak in Monkey Mia and spent the day watching the dolphins.
Carnarvon – 220km from Shark Bay
The jetty was closed due to storm damage and a bunch of kids set a fire under the bridge we went for a walk along. We stocked up supplies at Woolworths and left.
Coral Bay – 240km from Carnarvon
Coral Bay is a lot smaller than I expected, but it packs a punch for its size. The best part of Coral Bay is how you can swim from the beach to the Ningaloo Reef. I'd estimate the reef is 80 metres away from the beach. A quick swim and you are surrounded by coral, colourful fish and other marine life.
The recommended snorkel spot is to start at the 5 knot sign and drift back to the main beach. You can collect a map from the campsite which shows you were the 5 knot sign is. It's all good snorkelling, though, and hard to go wrong. It was such a difference from the Great Barrier Reef, which required at least an hours boat ride to reach the reef.
Manta Rays
We initially booked a Manta Ray Tour with Eco Tours but due to low numbers they transferred us to Ningaloo Reef Dive & Snorkel. The full day was amazing. It was action packed and we snorkelled at key points, snorkelled with manta rays, had lunch, another snorkel and finally humpback whale watching. On the snorkel stops we saw plenty of turtles.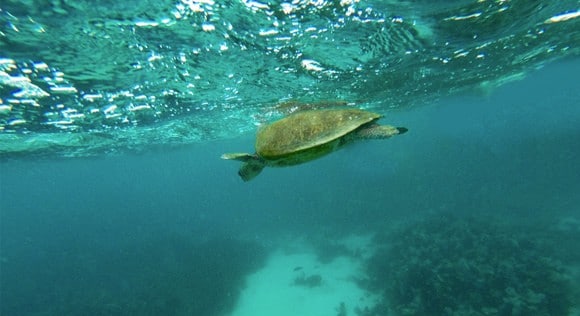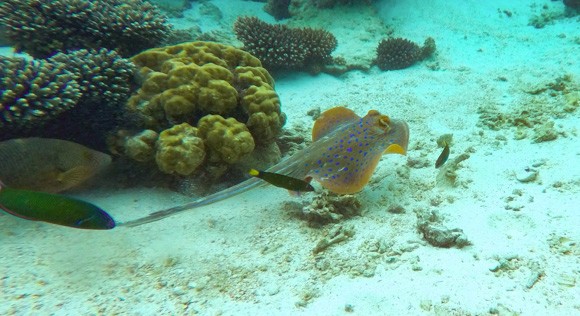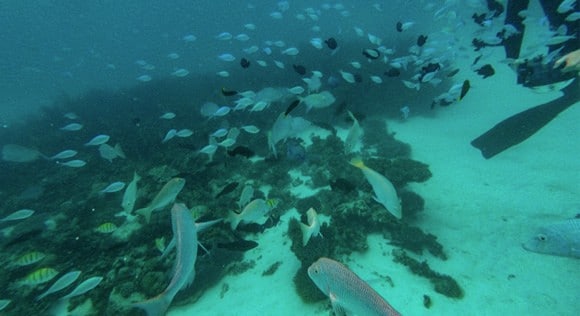 They took us to a shark cleaning station where reef sharks rest and small fish nibble the bacteria and parasites from the shark's teeth. We swam near four reef sharks. The sharks are harmless and actually swim away from you.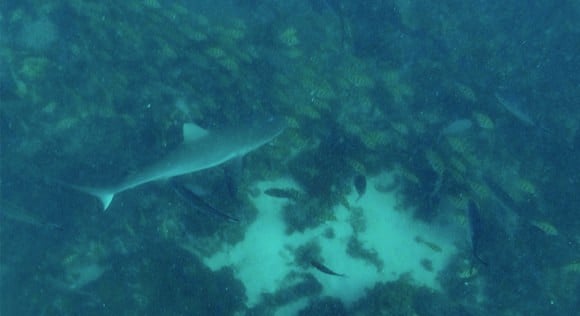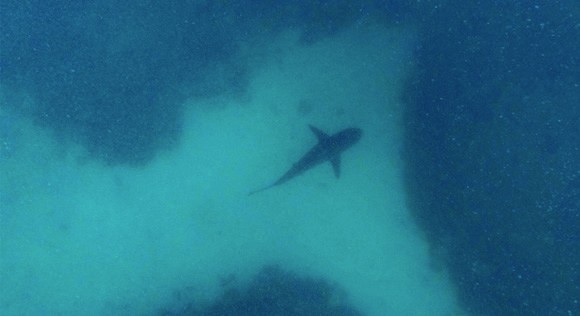 I highly recommend the manta ray tour. We swam with four huge manta rays. The only downside of the tour was photographs weren't included and were quite expensive – hence my amateur photography shown here.
Cape Range National Park – 200km from Coral Bay
We drove through Exmouth, booked our whale shark tour, and headed for the Cape Range National Park. You can only get to the Cape Range National Park by driving through Exmouth.
The Cape Range National Park has all kinds of wildlife. There are plenty of kangaroos, emus and dingoes roaming around.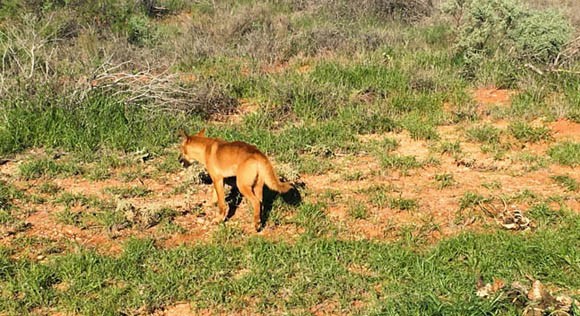 The kangaroos here are notorious for jumping out in the road and we saw a few roadkills that were fresh. There are a number of hikes in the Cape Range National Park but the highlight was the snorkelling spots. Turquoise Bay was my favourite as a light current drifts you through the Ningaloo Reef.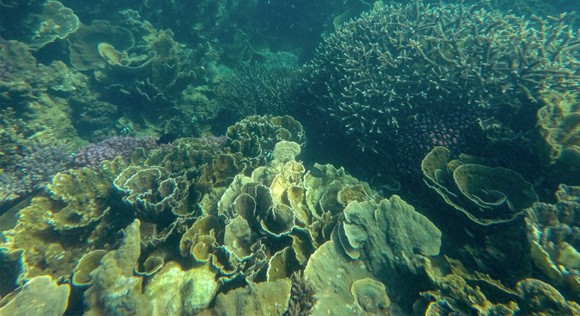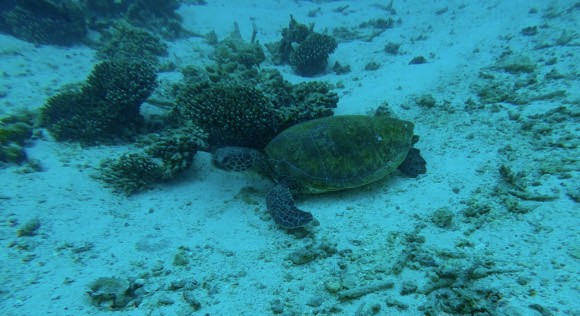 Stop at the Exmouth Information Centre to collect a map of the Cape Range National Park. You can also use the Information Centre's wifi to book accommodation in the Cape Range National Park. It is half the price of staying in Exmouth but spaces book up fast.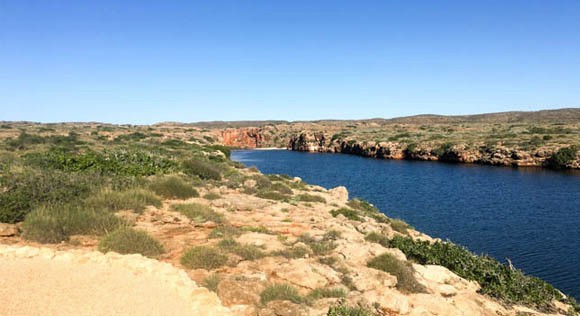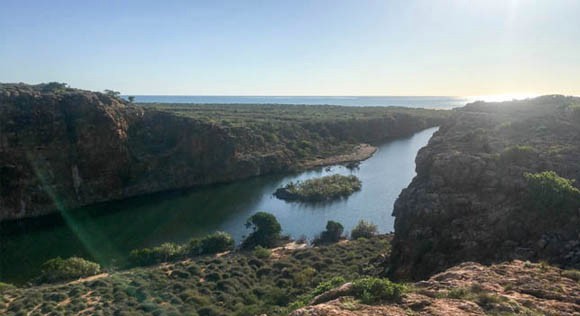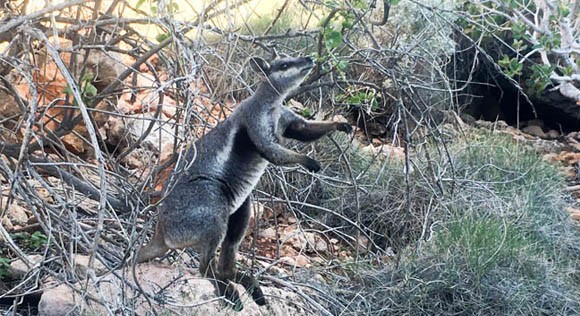 We stayed one night in the Cape Range National Park as the following night was fully booked. We completed the hike at Yardie Creek. It's a small but scenic hike and has lots of rock wallabies around.
Exmouth – 40km from Cape Range National Park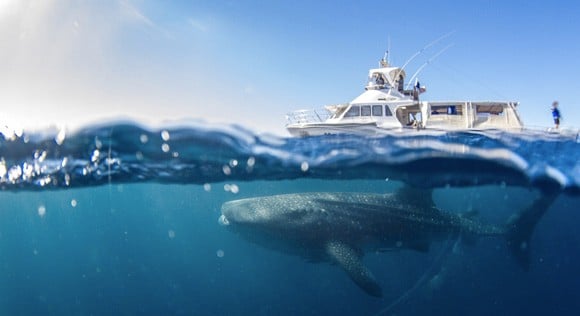 Exmouth is all about the whale sharks. In all honesty I would skip Exmouth unless you plan on doing a whale shark tour. The beach is terrible, the sea is unappealing and there's not much to do. It has some history from World War 2 and American's populating the area in the 1940s, but for its size, things to do are limited.
The whale shark tour is amazing. Expensive, but amazing. We swam with 5 different whale sharks. The whale sharks are huge. They are chilled out and are unfazed by snorkellers. We booked with Kings as they were right outside of our accommodation in Exmouth. If you stay at Ningaloo Caravan and Holiday Resort, you receive a 10% discount at Kings when you present your proof of stay when booking the whale shark tour. We didn't know this until after we'd booked our Kings tour and missed out on saving $90.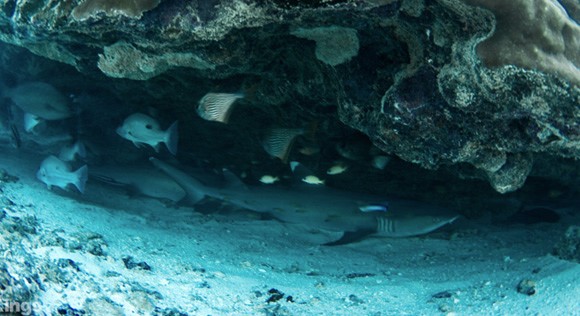 During the whale shark tour you venture outside of the Ningaloo Reef, but also spend time snorkelling on the reef and going to key locations with snorkelling guides in the water. We saw a lot of turtles, rays and lion mane jelly fish.
The whale shark day trip was one of the highlights of the Western Australia trip and I would certainly do it again. It is expensive but worth the money.
Tom Price – 550km from Exmouth
It is a big drive from Exmouth to Karijini and Tom Price is a good place to stop for supplies and fuel.
Karijini – 100km from Tom Price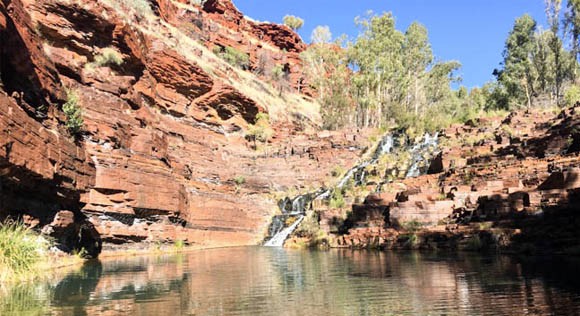 Karijini has two places to stay: Dales Campground and Karijini Eco Retreat. As you can tell from the names, Dales Campground is the cheapest of the two. You book campsites at the Karijini Visitor Centre. They also provide you with detailed maps of the Karijini National Park with further information about each gorge. There are showers at the the Karijini Visitor's Centre ($4 pp) and 15 minutes of free wifi each day.
From Dales Campground you can walk to Fortescue Pools and Circular Pools. We completed the walk in the morning and drove to Kalamina Gorge in the afternoon. Kalamina Gorge was worth the drive and is an amazing walk through the gorge.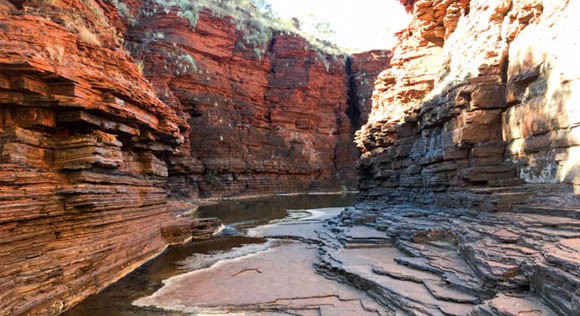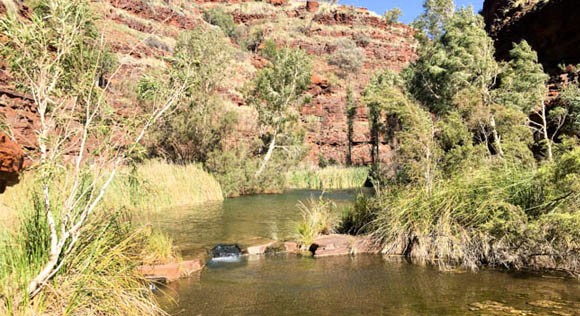 The following day we visited Kermit's Pool, Hand Rail Pool and Joffery Gorge. We missed out Hamersley Gorge as it is out of the way and we were consious of fuel. The gorges are amazing and combine short hikes, scrambles and swims. You can jump off the gorges into the water below or relax around the waterfalls.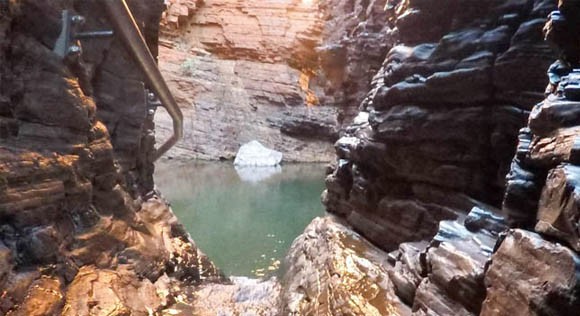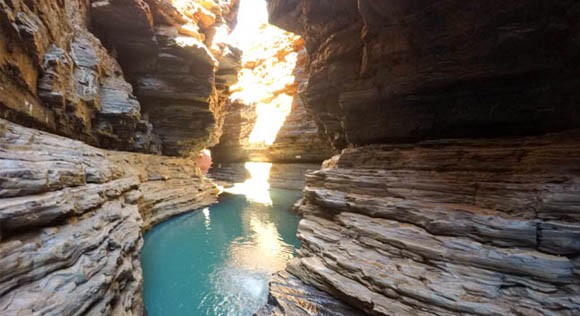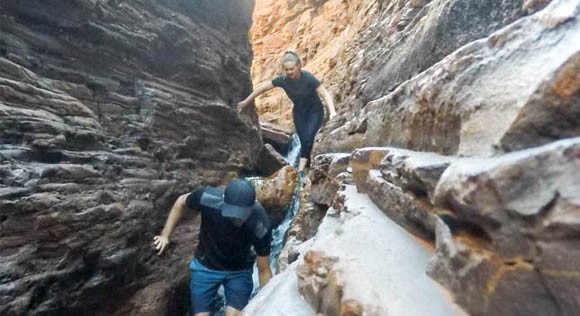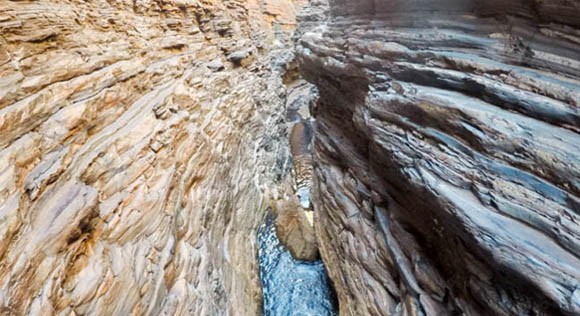 The roads through Karijini are signed as 4WD only. Although our car was a 4WD, I never switched from 2WD throughout the whole time in Karijini. You need to let your tyres down in Karijini as the roads are corrugated and you will bounce around. I let my tyres down to 20-25psi. You can inflate your tyres at Auski Tourist Village (Munjina Roadhouse) when leaving Karijini.
We spotted a snake hiding in the rocks on one of the walks. I had no idea if it was friend or foe and left it to hide in its hole.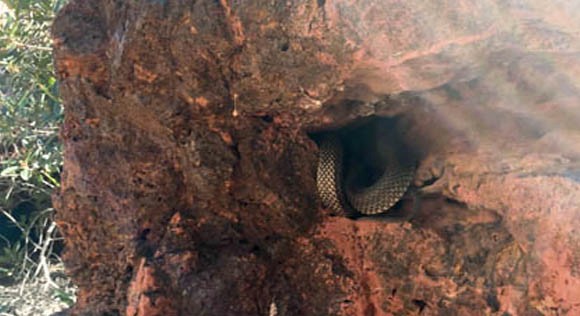 We visited Karijini in June and the weather was 20-25 degrees during the day and quite cold on the night time. It was perfect weather and temperature, but the sun set early and we were in darkness by 6.00pm.
Broome is an 11-hour drive from Karijini. 
Port Headland – 320km from Karijini
Port Headland is another fuel stop and a chance to replenish your supplies after Karijini.
Broome – 600km from Port Headland
Broome is a nice little town. Be aware that the campsites are expensive compared to other areas in Western Australia and there are no WikiCamps. We paid $90 for two nights. Cable beach is a great beach and was very calm during our stay. Lots of opportunity for swimming, kayaking or stand up paddle boards.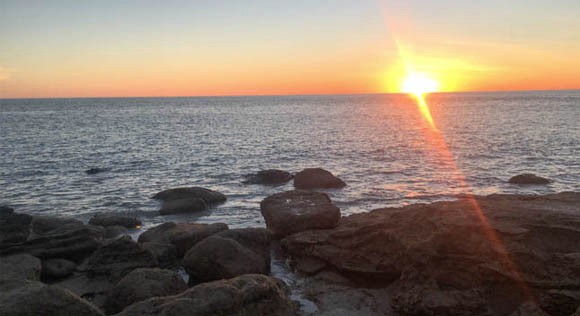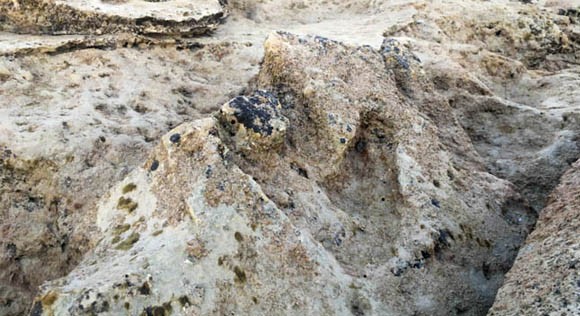 The dinosaur footprints at Gantheaume Point are worth a visit. Broome had a high population of dinosaurs and footprints have been preserved in the rocks. You have to go at low tide and there are no signs pinpointing the footprints; you have to find them among the rocks.
There is an evening market on every Thursday with live music, food stalls and the usual market stalls. We were lucky and timed our arrival in Broom to witness the stairway to the moon.
Broom to Darwin – via Gibb River Road
There are two routes from Broom to Darwin: One is a standard highway and the other is the Gibb River Road; A 660 km 4×4 track filled with gorges, hikes, river crossings and fresh water crocodiles. We chose the Gibb River Road.
We heard and read many scary stories about the Gibb River Road, mainly people breaking down, puncturing many tyres, expensive rescues, terrible road conditions and not seeing another vehicle for days. It's even recommended to take 2 spare tyres with you…
Our experience was smooth. Not a single problem on the whole 660 km road. We only took the one standard spare tyre and a puncture repair kit, both of which were never needed. We passed hundreds of people each day and even saw signs for a couple of tyre repair shops. Granted, it was Winter and the school holidays, but even so, there were so many other people driving the Gibb River Road.
We didn't go unprepared though and took the following precautions:
Checked the spare tyre's condition and did a practice change
Bought a puncture repair kit, foot pump and tyre pressure gauge
Had 40 litres of water for a 5-day trip
Had enough food to survive an apocalypse
Never drove at night
Luckily I didn't need any of the repair gear. I let the tyres down to 25 psi for the start of the journey and had to lower it to 20 psi when the road condition worsened. We took the drive steady rather than risk a puncture. The car and you bounce around a lot on the road – I hit my head on the roof of the car on a couple of occasions.
We spent 3 days on the Gibb River Road. You could spend longer but we tend to rush rather than taking it slow. Our 2000 Nissan Pathfinder survived the Gibb River Road and I only used the 4WD option when we crossed the creeks.
Derby – 220km from Broome
Derby is the final stop for fuel and a supermarket before tackling the Gibb River Road.
The distances look short on the Gibb River Road but allow plenty of time for driving. Your speed will vary a lot depending on the road conditions. Sometime we were driving at 80 kph and others 30 kph. Ignore Google Maps timings – it greatly overestimated how long it would take.
Windjana Gorge National Park – 145km from Derby
Windjana Gorge was the first place we saw crocodiles in the wild. The walk through Windjana Gorge is jam packed with fresh water crocodiles. The crocodiles mind their own business and leave you alone. I wouldn't have gone swimming in the water, or walked along the bank near murky water, but it was an amazing experience hiking near so many crocodiles. Salt water crocodiles tend not to visit Windjana Gorge but it's best to be cautious.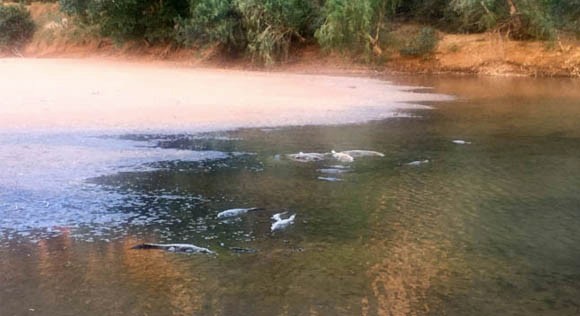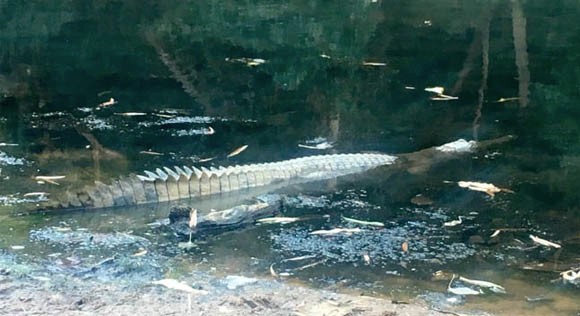 Tunnel Creek – 35km from Windjana Gorge
I foolishly missed Tunnel Creek. I thought it was on the way to Bell Gorge and didn't check the map. It was too late to turn back once I realised my mistake. Apparently Tunnel Creek is amazing and bats are in the tunnel you walk through – make sure you have a good torch with you.
Bell Gorge – 180km from Tunnel Creek
Bell Gorge is amazing. You can swim, sun bathe, admire the waterfalls, jump off rocks or a combination them all. Bell Gorge is the most popular gorge along the Gibb River Road and I can see why. We spent a couple of hours at the gorge before continuing along the Gibb River Road.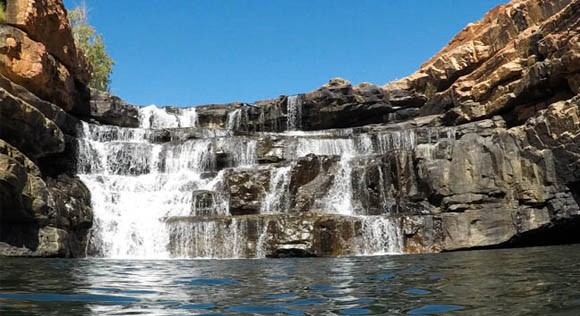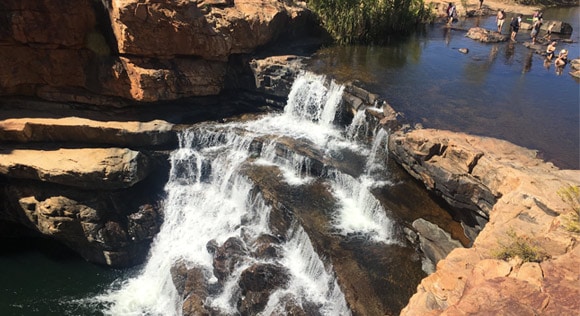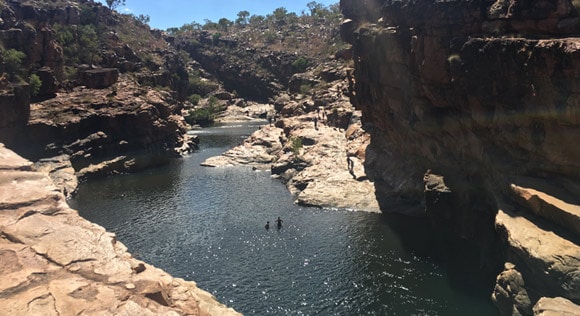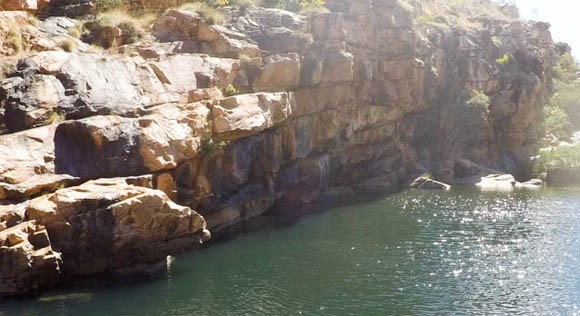 Mount Barnett Road House – 115km from Bell Gorge
Mount Barnett Road House is the half way point and the required fuel stop. It is just before Manning Gorge
Manning Gorge – 10km from Mount Barnett Road House
Manning Gorge competes with Bell Gorge for it's waterfalls and activities. The best rock jumping is at Manning Gorge as there are multiple levels depending on how high you want to jump. It is a long walk to Manning Gorge and it starts with a little pull boat.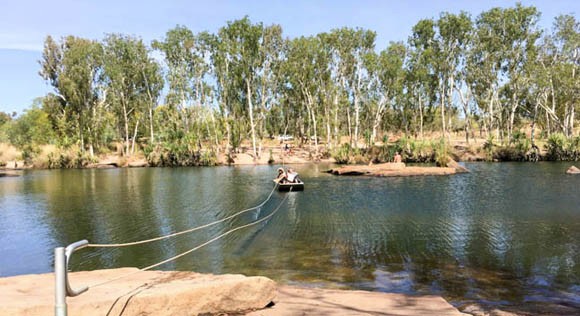 Watch our for fresh water crocodiles in this area. A few were spotted during our visit.
Once you have pulled yourself across the water, it is a long hike to Manning Gorge. It took us approximately an hour to reach Manning Gorge and the long hike makes the water feel so much better.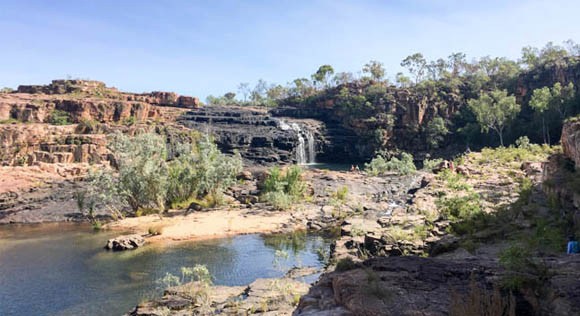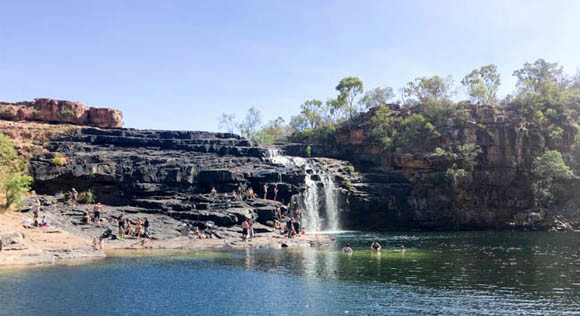 The Pentecost River Crossing – 290km from Manning Gorge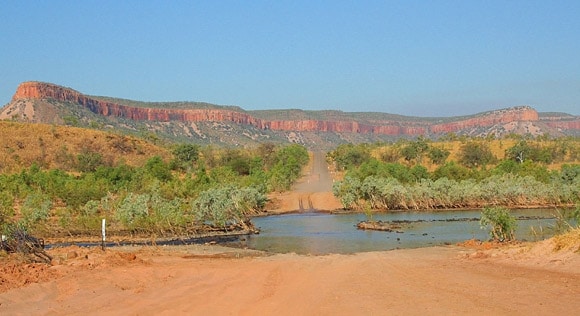 The Pentecost River crossing was the only crossing I was unsure about. It was long, flowing and I had no idea about depth. You can't go test the depth due to saltwater crocodiles. I pulled over and waited for someone to cross first. I waited for about 5 minutes and someone pulled up next to our car and asked if we were ok. I told him we were unsure about crossing and wanted someone else to go first. He gave me a massive grin, a thumbs up and ploughed straight through the water. I let him reach the other side, tripled checked I was in four-wheel drive and revved hard until I reached the other side.
El Questro Station – 40km from The Pentecost River Crossing
It's a long drive to El Questro Station. We probably didn't make the most of El Questro Wilderness Park but we were conscious of fuel and warnings about high-clearance 4×4 tracks and deep river crossings. We still needed our Nissan Pathfinder to make it to Cairns and didn't want to break down in the Kimberleys or float down a creek.
Zebedee Springs are definitely worth a visit and only a short walk from the car park. There are a collection of small rock pools for you to lounge and relax in. The water is naturally heated and comfortable sits at a warm temperature. The pools are often busy and are closed in the afternoon, so it's best to arrive early.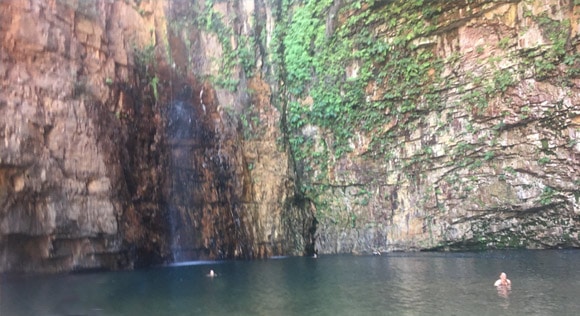 Emma Gorge has a good hike with a swimming hole and waterfall at the end.  It is expensive to complete: even with your WA Holiday Pass it is an extra $10 per person.
Kununurra – 100km from El Questro Station
Kununurra is back to civilisation and time to stock up on supplies and inflate your tyres back to their normal pressure.
Lake Argyle – 70km from Kununurra
Lake Argyle Campsite was the perfect stay after the Gibb River Road. It had great showers, a good pub, live music and a chilled out atmosphere. It was a welcomed rest with great views and a small swimming pool above the lake.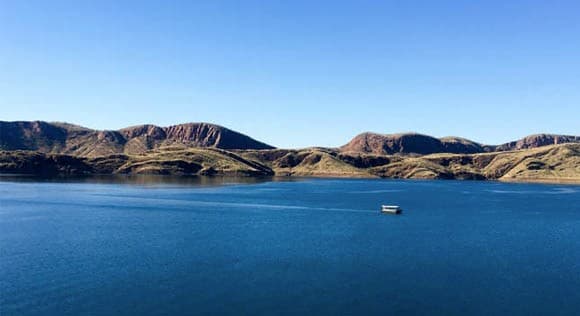 After Lake Argyle it's a short drive to the Western Australia and Northern Territory border. Don't forget to change your clocks 1 hour and 30 minutes ahead.
Nitmiluk National Park – 570km from Lake Argyle
Starting at the Nitmiluk National Park Visitor Centre there are a number of hikes, ranging from 2km to 40km, with swimming holes and gorges and views that overlook the Katherine River. The hikes range in difficulty and a map can be found at the Visitor Centre.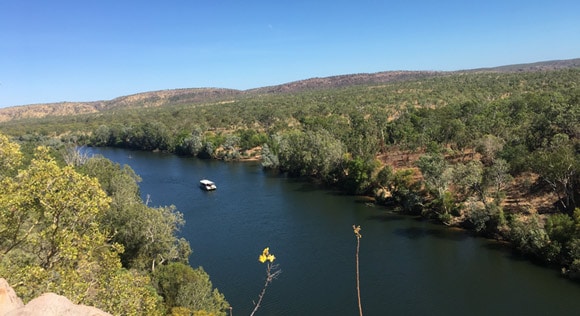 Litchfield National Park – 250km from Nitmiluk National Park
There are so many National Parks in NT and Litchfield is another great place for waterfalls and swimming holes.
There are a number of small walks in Litchfield that spruce up the visit to the watering holes, rather than taking the direct route from the car park. You can walk along the creeks and through the woods to reach each swimming spot. Florence Falls and Wangi Falls are popular spots in Litchfield.
Next stop: Darwin – 140km from Litchfield National Park
That's the end of the road trip. There are other things to do along the drive and you can take the trip as slow or as long as you like . We completed the trip in 4 weeks but we tend to rush rather than taking things slow.
Aftermath
We stayed a short time in Darwin and beelined for Cairns to sell the car. The two-year Australian dream had come to an end and it was time to sell the car in Queensland before catching a flight out of Australia.
We booked the car for its Road Worthy Certificate and while the mechanics were doing their thing, we plastered every hostel in Cairns with a for sale poster and placed adverts on Gumtree and Facebook Marketplace. It wasn't until the next day that we discovered that is was going to cost $2600 to pass it's Road Worthy Certificate…
It was a big blow, as we expected to sell the car for $2500-$3000 dollars before departing Australia. We had to take it on the chin and we sold the car for scrap for $150. The car saw us through 40,000 km and we drove the whole circumference of Australia so it has hard to be too disappointed.