A friend convinced me to sign up for the London Triathlon. We were both active and knew the Olympic (1.5 km swim, 40 km bike, 10 km run) triathlon was the most challenging yet achievable distance. Neither of us could swim. We played football, so we could run. We biked to work, so we figured we could bike.
I started my swim training first, almost a year before the triathlon, because I'd never swam properly before. Not long after I'd started to feel comfortable in the pool and swimming 2 km in a training session, my friend dropped out of the triathlon. I had gone too far with the swimming to drop out so I continued solo.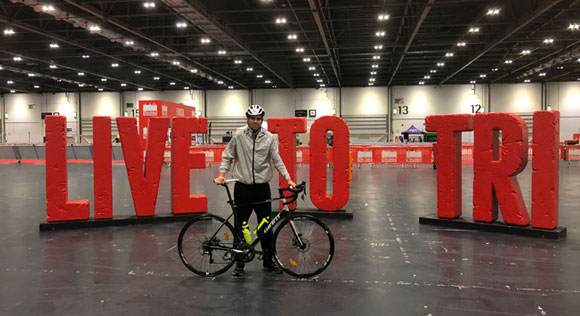 The Actual Day of the London Triathlon
Transport to the ExCel Centre
I followed the official advice and tried to commute by public transport to ExCel London. As I waited for the tube to depart, a tannoy announcement informed the carriage that severe disruption was on the line. They guaranteed arrival at our destination, but couldn't confirm how long it would take. My partner was coming to watch the event and was on the tube with me. She jumped in an Uber and I cycled to ExCel. It was a 10 km cycle and I got lost trying to navigate the roads of London with a failing GPS signal on my phone. I bumped into another participant, identified by the big number across his front, and we collectively arrived at ExCel. The unexpected commute was a good warm up.
Registering at the ExCel Centre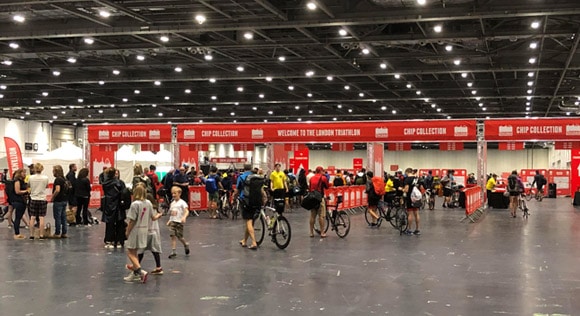 I collected my timing chip and swimming cap from the registration point. I could then visit the transition area and set up my bike and equipment. You're not allocated a spot in the transition area before arrival, you're given the next available space on the world's biggest bike rack.
After putting on my wetsuit, I realised they had forgotten to give me the straps for my timing chip. I returned to the registration to collect the straps. This took 10 minutes due to the sheer size of the ExCel Centre and for the amount of people coming and going. I'm glad I set off so early.
The Transition Set up for the London Triathlon
You're allocated a colour-coded bike rack depending on your wave. The racks are huge and it's difficult to keep track of where your bike is, especially if your bike is in the middle of the rack.
You keep all of your gear next to your bike. There's no official way of doing it. Some people laid their stuff on the ground, others draped it other their bike. I laid mine on the floor. My running shoes are bright blue, so I laid them in clear view to help me find my transition spot quickly.
My main reservations about the London Triathlon was the transition process. I received a map of the transition area, but I could barely make sense of it sat on the sofa, never mind bustling through the busy transition area after swimming and biking. I arrived early enough to walk the transitions and figure out where I needed to go next. There were many volunteers pointing me in the right direction, too.
I'd read about key positions in the transition area to decrease your time switching between swimming, cycling and running, but it didn't matter, you get told where to go.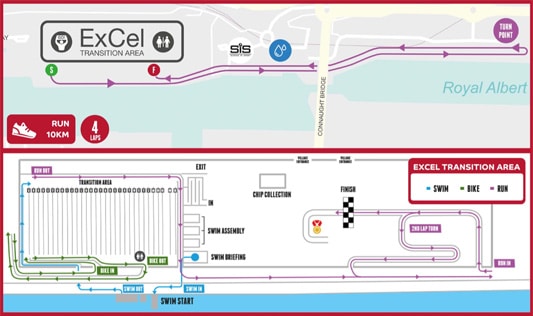 The Swimming Start of the London Triathlon
This above clip was supposed to be a video of the swimming start, but a time-lapse was recorded by mistake. It looks chaotic as a time-lapse, but the video below shows how calm the swim was.
The swimming was not as bad as I feared. It surprised me that the water in London Royal Docks was salt water and not fresh water. I was expecting a cramped starting position with furious fighting to secure a swimming spot. There was plenty of room for everybody. I planned to start near the back, but due to the unexpected space, I started at the front.
You cannot see your hand in front of your face in the water. There's just a green glow in front of your goggles. I tried to be sneaky and swim behind other swimmers and take advantage of the drafting. It was impossible. Apart from chasing the stream of bubbles, it was impossible to track anyone around me. They disappeared from view once they were a metre or so away from me. I accidentally brushed a couple of other swimmers when overtaking. Other swimmers made slight contact with me, too, but there weren't any kicks to the face, legs pulled, or goggles being punched off as I'd read about.
Tracking the buoys was difficult. I'd practised sighting when swimming, but it was the number of buoys I needed to count that threw me off. At one point I thought I had finished the swim, but I had another 500 m to go. It was easier to look for other swimmers and follow their lead.
Taking off Your Wetsuit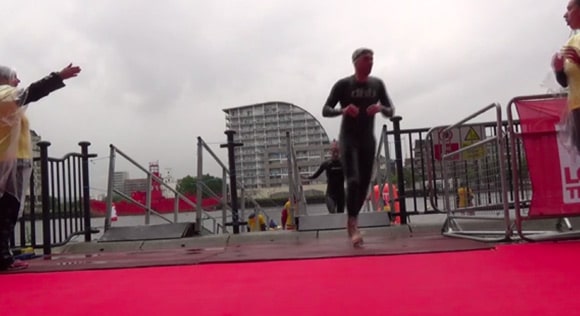 You must take off your wetsuit outside of the ExCel centre. As soon as you are out of the water, there are a bunch of volunteers waiting with a large bin bag for your wetsuit, goggles and swimming cap. I didn't wear a trisuit and only had a pair of wet boxers underneath my wetsuit. I was concerned they were going to come off when the volunteer was helping me rip off my wetsuit. Luckily they stayed up.
Results
Tracker
Your supporters can live track you during the event. Whether they are physically at the ExCel Centre or cheering you from home. All they need is your email address, full name or bib number.
Finish Times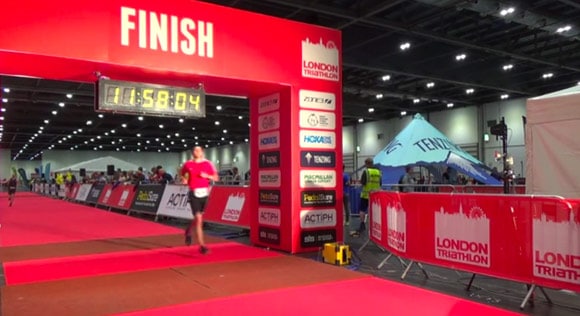 I am very happy with my results. I aimed to finish in the top 5% of the Olympic London Triathlon and just managed to squeeze in there. Although this was my first triathlon, I have ran off/on for many years.
1.5km swim: 25m 22s
T1: 4m 48s
40km cycle: 1h 15m 21s
T2: 2m 47s
10km run: 39m 51s
Overall time: 2h 28m 07s
Position: 52nd out of 1204 participants. (4.3%)
A detailed breakdown of timings are on the official results page.
Preparation
Gear
I had no idea what to wear for the triathlon. I learnt the difference between a wetsuit and a triathlon suit only a few weeks before race day. For those wondering, a wetsuit is worn for the swim only and a triathlon suit is worn for the swim, bike and run. I had a surfing wetsuit, but from what I read online, I needed a proper swimming wetsuit. I'm glad I spent £70 on the swimming wetsuit. It is very different to the surfing wetsuit. I went on one open water swim in my wetsuit before the event to ensure it was the right size and to have a practice in open water. All my swim training was in a swimming pool.
I half regret not buying a triathlon suit. Because I'd not trained in a triathlon suit, I decided not to use one for the event. I should have purchased a triathlon suit much sooner and had chance to swim, bike and run in it. I think a triathlon suit would have cut my transition times in half, if not more, as it was painfully slow switching clothes.
Without the triathlon suit, I decided to swim in boxers and wetsuit. Cycle in cycling shorts, a cycling jersey and running shoes (I didn't wear cleats) and run in normal shorts and t-shirt. It's not the ideal set up as I was changing clothes at the transition, but it did the job on the day.
Cycling
Many participants were fixing punctures during the cycle section of the race. It made me nervous as I hadn't prepared for a puncture; my bike had tubeless tyres fitted and I wouldn't even know where to begin. I just hoped the tubeless tyres would do what they're designed to do and stay inflated for 40 km. I'd easily cycled over 1000 km in the months beforehand without a hitch, and prayed the tyres had another 40 km in them.
I highly recommend taking a spare inner tube if you don't have tubeless tyres. The road was in terrible condition with your typical pot holes and debris. There were roundabouts and turns on the route too, it did mix it up, but it also added a couple of minutes to the overall time as everyone had to break for the sharp turns.
Triathlon Number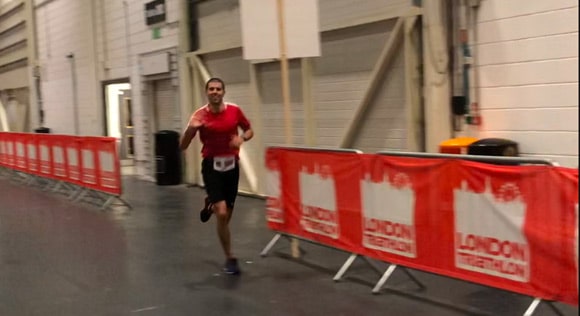 Your large triathlon number must be worn throughout the entire race (except swimming). Your numbered wristband must be worn for the entire event and not taken off until you're finished the race and collected your bike from the transition area. A sticker must also be displayed on the front of your bike and helmet. I had to remove my lights and reflectors to create enough space for the number to stick to the front of my handlebars.
You are giving one large number to wear for the cycle and the run. During the cycle, your number must be displayed on your back and during the run it must be displayed on the front. I intended to switch the number over during the transition from my cycling jersey to my running t-shirt, but I knew this would take too much time. I opted for a triathlon belt, but because I'd left it last minute, I made my own.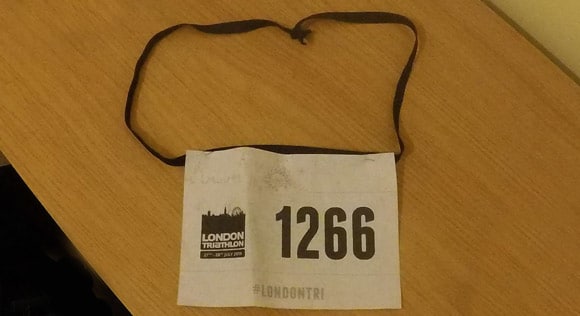 It didn't turn out too bad. I pinned some elastic to the number and it held up really well. I would certainly buy one next time, they're only a few quid on Amazon.
Timing Chip
The timing chip you're given during registration must be worn on your ankle at all times of the race. You don't notice it during the event and it is often lost when taking off a wetsuit. Before I had even looked at my ankle to make sure it was still there after removing my wetsuit, the volunteer had shouted, "you've got your chip, now go go go!", which gave me one less thing to think about.
Hydration and Nutrition
I was bombarded with promotion emails after registering for the London Triathlon. The main advertisements were for wetsuits and nutrition. I'd never used gels before and thought they were expensive for a pouch of flavoured sugar. At an elite level, they probably do make a small difference, but I decided on jelly babies instead. I placed a few in the back pockets of my cycling jersey. I ate 2 jelly babies before I set off on the cycle and another 2 each time I completed 10km. This wasn't practised or calculated, it just felt right during the race.
There are no water stations during the swim and the cycle. You must carry your own water during the cycle stage. I had two 750ml bottles. One filled with water and one with lucozade sport. It was just the right amount and I sipped them gradually during the cycling.
Training
I split my training into the following:
Swimming: 3 days a week before work. Distance: 2-3 km per swim at different speeds and intensities.
Cycling: 2 days a week with a cycling group. Distance: 40-60 km per cycle.
Running: 3 days a week and six-a-side football. Distance: 5-10km per run at different speeds and intensities.
I didn't stick to this routine as much as I should have and I didn't train this way for the full year. I trained on/off for a year and for the last 3 months I trained consistently.
I joined a Masters swimming group for 6 months to learn how to swim. After 6 months I relocated and no longer had access to a Masters swimming group. I highly recommend a swimming group for improving technique and mixing up the training.
I joined a cycling group and trained with them twice a week. I was by far the slowest cyclist and often couldn't keep up with the group and had to make my own way back home. It was good motivation to try and keep up with the group a little longer each week.
I ran solo twice a week and ran the Parkrun every Saturday. I also played 6-a-side football for an hour once a week.
Briefing Video
Although this video was filmed for the 2017 London Triathlon, I found it useful to watch before I took part in the 2019 London Triathlon. It was beneficial to see the runnings of the day and how things are set up. Some information may change, the sponsor has at least, but it is certainly worth a watch.
Questions
If you still have a question about the London Triathlon, comment below.