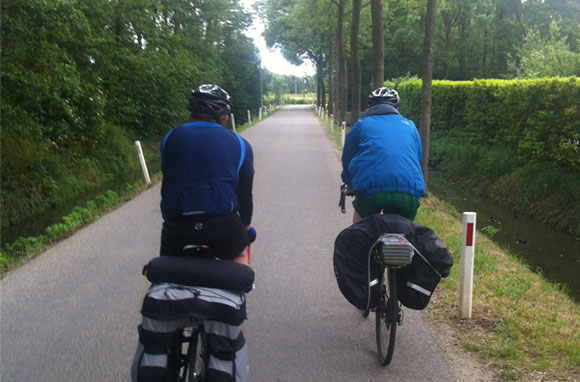 Back in 2015 I convinced 2 friends, Mike and Andy, to attempt a 550-mile bike ride across 4 countries in just 8 days. We carried our camping equipment on the back of our bikes and didn't book a single night's accommodation.
We weren't cyclist enthusiasts or even recreational cyclists. We commuted to work on a bicycle and that was as far as our connection with cycling went.
We booked a ferry from Hull to Rotterdam to start the journey and a Eurostar ticket from Paris to London to return back to England. We just needed to fill the days in the middle with cycling.
The Route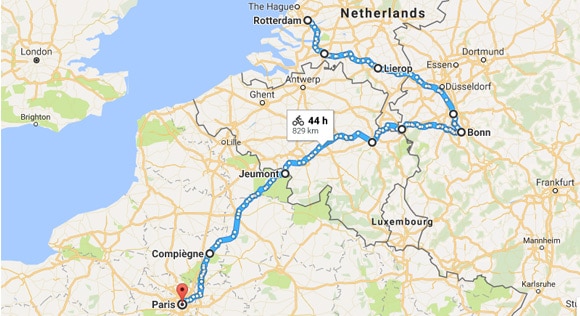 The responsibility of planning fell to me. It was my idea after all. I discovered Eurovelo during my research. Eurovelo is a network of cycling routes across Europe, connecting many countries with trails over 5000 miles in length. It was a great place to start planning the route. Eurovelo links Government and charity networks, such as Sustrans in the UK. The cycling routes are scenic and promote traffic-free routes as much as possible.
We used Eurovelo 3 (yellow) and Eurovelo 4 (light blue) as they intersected at Colonge, Germany. We could have used the coastal route through the Netherlands and France but I decided to use Eurovelo the whole way and visiting Germany and Belgium would be a nice addition to the trip.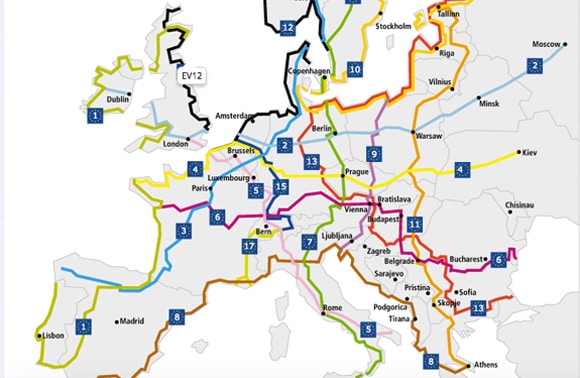 The Eurovelo network
Eurovelo is a great idea and their website is very helpful for the planning stage. Navigating the Eurovelo routes isn't as simple as following a straight line, though. You cannot buy one map that covers your whole distance. Each Eurovelo route is separated into different stages and maps are provided by different organisations, each with their own website that have a varying degree of usability and are in their respective language. I wasn't even sure which maps were needed for the trip. It would have been expensive to buy each individual map and more gear to carry on the trip too. Planning the route was harder than I thought and eventually I settled with meticulously planning the first two days of cycling and a rough idea for the remaining days.
A Digital Map
I decided a digital map on my phone would be the best means of navigation. Using the Pocket Earth Pro app I downloaded a map of the Netherlands, Germany, Belgium and France. Points of Interest, such as campsites, were preloaded onto the map. The biggest advantage of using Pocket Earth Pro was the GPS. I could press a button and my location would appear on the map.
I had two backup plans in case my phone broke. Plan B: Find an internet cafe and download Pocket Earth Pro on Mike's or Andy's phone. Plan C:  I wrote down a list of cities we would pass through so we could rely on street signs for navigation.
Pocket Earth Pro saw us through the trip with only two hiccups and both were a problem with the Points of Interest. One campsite didn't exist. Luckily we found another campsite not too far away. The second error was a campsite marked on the map that turned out to be a gypsy site. We were greeted with confused stares and screaming kids. We exited quickly and found another campsite.
GPX Files
Another advantage of using a digital map was the function of loading pre-determined routes. I downloaded the route for Eurovelo 3 and 4. It helped navigating since the route was plotted on the map.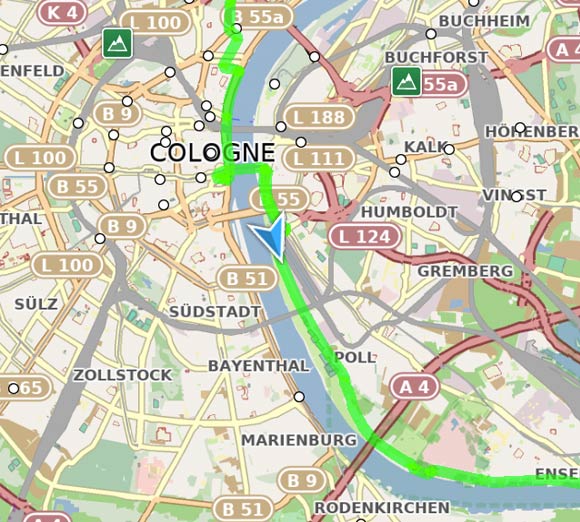 Biroto is a community dedicated to cycle touring and offers free GPX files of the Eurovelo network.
We're Not Going to Make it…
After 3 or 4 days on the road I realised I had messed up. We weren't going to make it to Paris in time to catch our Eurostar train. We were supposed to bike 70 miles a day, but we only reached that milestone once. "We'll make the distance up tomorrow" was the common saying during the cycle. A combination of getting lost, weather and mechanical failures affected our daily distance. My biggest mistake was underestimating how hard and long cycling uphill would take. Cycling 10 miles on flat ground is easy. Cycling 10 miles uphill carrying camping equipment in 30 degree heat is not. Aside from the gradient, the terrain also took me by surprise. We cycled along roads, paths, grass, dirt tracks and even sand. All of which reduced our average speed.
My second mistake was underestimating how long non-cycling activities take. Cooking, eating, finding a campsite, finding a shop, finding toilets, setting up gear, packing away gear and even just stopping to admire the views all took up more time than I had anticipated.
My philosophy and selling point of the trip to Mike and Andy was that the cycling would be easy. We'd take it steady and as long as we peddled continuously we could maintain a steady cadence and plod along casually. Time in the Seat was the phrase. TITS for the acronym. To bike 70 miles a day, we could pedal at a measly 10 mph for 7 hours throughout the day. Easy. Mike's speedometer placed our average pace at 13 mph. On paper we should have breezed through our daily milage but it just wasn't the case.
The Great Rain Robbery
Much of our journey revolved around water. Using rivers for navigating, scouting places to refill our water bottles or sheltering ourselves from the skies above. Halfway through our journey the skies opened relentlessly and set us back a lot of miles – we only biked 40 miles that day. It was the final nail in the coffin for reaching Paris by bicycle.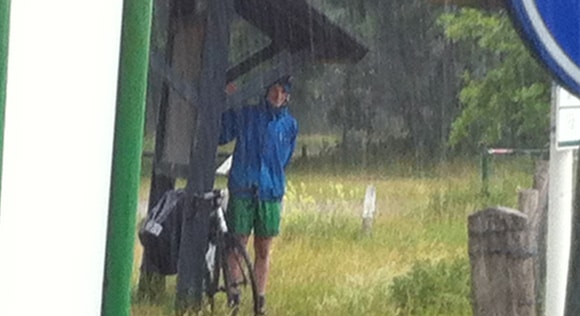 Aside from flushing my hopes and dreams down the drain, the rain also ruined our gear. Every single item of clothing and equipment was soaked through. The biggest loss was the solar charger used to power my phone (and map) was damaged. We spent two hours in a German campsite's bathroom, trying to keep warm and drying our clothes and sleeping bags under a hand dryer. After the 2 hours we found a tumble dryer around the corner…
Wild Camping in Germany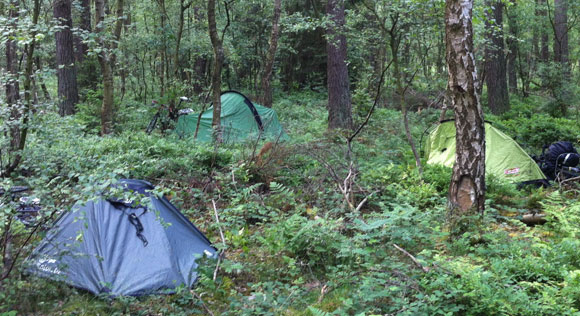 We hadn't booked any accommodation for the trip. I had an idea of where we would camp for the first two nights so we could settle into the journey, but after that we were on our own. We planned to wild camp for 50% of the trip, but due to the rain-damaged solar charger, a campsite was a guaranteed way to charge my phone and ensure a day's ride with a map. Since we had our hearts set on randomly camping in a forest, one night we decided to eat dinner in a German pub and charge my phone while we tucked into schnitzel. We set off just before sunset to a large section of green on the map and set up camp among the trees.
Finding a campsite was never an issue on the trip. We started to think about camping a couple of hours before sunset and we'd check the map for campsites nearby. Finding a wild camping spot was even easier.
A Broken Bicycle
We weren't going to arrive in Paris by bicycle, but the new plan was to cross the French border and catch a domestic train to Paris. We had a hotel booked in Paris and a Eurostar to catch. We were 8 miles from Namur, Belgium, and 55 miles from the French border when my derailleur snapped and sprung between my spokes. My derailleur, wheel, chain and rear gears were damaged. It almost signified the end of cycling. I'd had enough and wanted to walk the 8 miles to Namur. Mike took it upon himself and spent 2 hours removing my derailleur and shortening my chain, creating a single-speed bike. Andy and I spent the 2 hours jumping and swimming in the river Meaux.
My newly created single-speed bike lasted until Namur. The chain finally snapped and my bicycle journey had officially ended.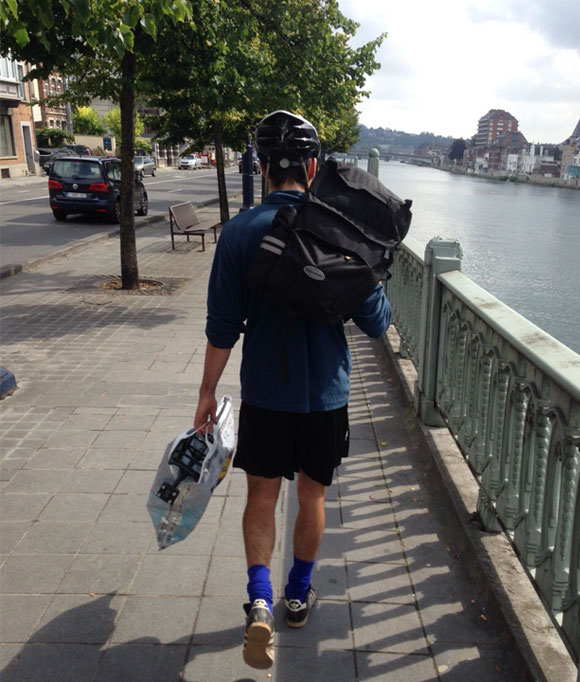 Walking the rest of the way…
Arriving in Paris
We were stuck in Belgium and needed to be in Paris the following day. We weren't concerned as trains were running from Namur to Paris. Upon arriving at the train station a very unhelpful and rude member of staff explicitly told us it was impossible to reach Paris with Mike and Andy's bikes. Unfortunately this was the only staff member who spoke English and he was not willing to help in any way. We spent a good 45 minutes in the station trying to buy a ticket for the train.
We tried to hire a van but it was a Saturday and the hire companies were closing shortly. The end result was a €550 taxi to the French capital. The taxi driver initially agreed to a €500 fare. Once we arrived in Paris he wanted another €75 or he was going to take us to the police station. After 10 minutes of heated discussion, we gave another €50 and grabbed our bikes out of the car before it could be disputed any further.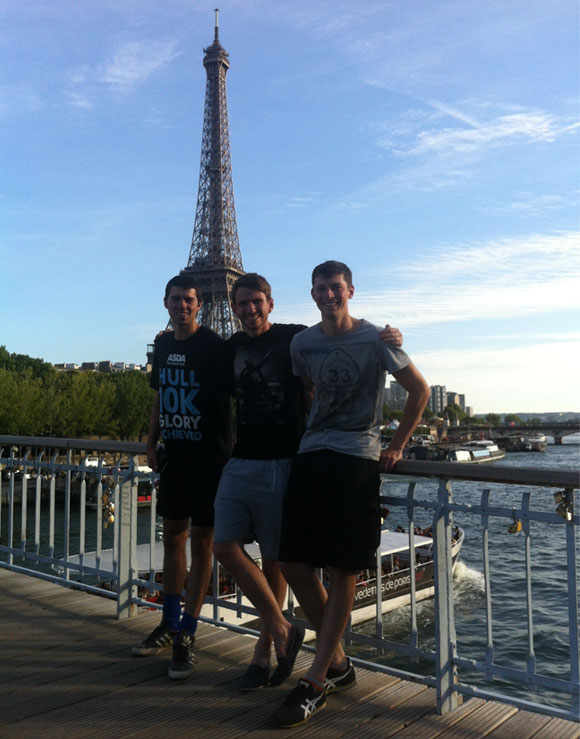 Upon arriving back in the UK I contacted the train company in France. This was their response:
We are surprised you have been told you could not take your bicycle on the Thalys because you can if you follow certain rules: a bicycle is only allowed if it's front wheel has been removed and if the bicycle is packed in a special bicycle cover (maximum measurement 120×90 cm). I presume you did not know this and this is the reason why you could not get on the train with your bicycle.

But even if this was the case, they should have explained to you how it works.

The same rules have to be followed if you want to take the TGV to other destinations in France, you just have to be sure to take a direct TGV from Brussels Midi to France.

In both cases (Thalys or TGV) transporting your bicycle is free of charge.
Two bicycle bags would have been a lot cheaper than a taxi.
Looking Back
The Netherlands was a great place to cycle. The cycling paths were smooth, abundant, large, well maintained and signposted. When a cycle path intersects a roundabout, the cyclist has right of way – it was confusing not stopping at a roundabout and seeing cars stop for you. The flat terrain was a joy compared to other areas along the trip. You could always find shelter, benches and shops along the cycle paths too.
One day in the Netherlands we were eating lunch on a picnic bench when a Dutch couple invited us into their home for lunch. They provided us with tea, coffee, biscuits and waffles. It was a much better lunch than sandwiches in the rain. They didn't speak much English so the afternoon was spent communicating with hand gestures and the bits of English they knew. They told us that whenever cyclist stopped at that bench they always offered them food and shelter. Their record was a group of 7 cyclists who all slept in the garage. They offered for us to stay the night but we had some miles to make up. It was a culture shock for us reserved Brits. We like to be left alone and none of us would ever dream of inviting 3 strangers to lunch. It was a refreshing change to see people being kind for no other reason than to help three wet, hungry, tired cyclists in the middle of the countryside. After leaving the house and continuing with our travels, Andy couldn't locate the chocolate bar that he'd been saving. He realised that he had accidentally left it on the Dutch couple's radiator while he sorted his bag. That is the thank you the couple received for their generosity and hospitality: melted chocolate on their radiator.
It wasn't all friendly in the Netherlands. A group of mopeds came towards us on a cycle path and a passenger spat in my face as we cycled past each other. In addition to her excellent aim, she must have been nursing a cold or had exceptional salivary glands because she soaked my full face and cycling glasses. Pretty sure I had my mouth open too.
Cycling down the river Rhine, Germany, was a navigation dream. For about 90 miles we just followed the flowing river. It was great. No turns or streets to worry about and the views were fantastic. We used the river water for boil-in-the-bag meals and the leftover water for cups of tea.
A Future Tour?
I remember my arse hurting more than my legs and my pride hurting more than arse and legs combined. Not reaching France, never mind reaching Paris, was a huge disappointment and I had failed at planning a successful trip. It was still a great experience and I learnt a lot from the trip.
I will definitely complete another cycle tour. Whether it's in the UK or abroad, for a weekend or a month, I have no idea, but I will definitely do it again. I'll factor in more free time to enjoy the trip, lower the daily milage, consider the gradients and terrain and allow time for spontaneous activities and inevitable mishaps.
If you are interested in cycle touring or just enjoy other people's cycling stories, Tom Allen's website is a great place to start.