Pros and Cons of North Bundy Backpackers Hostel
Pros:
Work is constantly available picking cherry tomatoes.
The layout is very sociable compared to other hostels in Bundaberg
The TV room has 3 TVs, air conditioning and 2 Xbox 360s
Cheap compared to other hostels in Bundaberg
The reception staff are helpful.
Cons:
The cleanliness is appalling
The Wi-Fi never works
No aircon in the rooms
The waiting list for work has no structure
Severe lack of hourly paid jobs
Not enough cooking facilities for the number of residents
Rules seem to be adjusted whenever it suits the owner
Bed bugs
I arrived at North Bundy Backpackers with the promise of starting work the following day. I was hoping to save a lot of money whilst ticking off the required 88 days for my second year visa.
At North Bundy Backpackers everybody starts work on the cherry tomato farm until a "real" job becomes available. It took me 4 days to receive a better-paid job, some people waited over 2 weeks and others started a good-paying job on their first day. It all depends on the supply of workers and the demand of the farmers. It's inevitable that you will spend some days picking cherry tomatoes. I completed 22 days on the cherry tomato farm and 66 days on my allocated farm.
Structure
The hostel holds 78 people in 13 rooms. The setup is as follows:
10 x 6-person rooms
2 x 4-person rooms
1 x 10-person room
Each 6-person room has its own shower and toilet. If you are in a 4-person or 10-person room you have to share the communal shower with 18 people. Generally people in the 10-person or 4-person rooms move to a 6-person room when a bed becomes available.
Facilities
Swimming pool – not ideal for swimming but good for a bit of fun
Free weights – bench, dumbbells and barbels
TV room – 3 TVs, 2 Xbox 360s with a lot games, a collection of DVDs, books and a hard drive with a collection of TV shows and films
Kitchens – Two kitchens. During my time the oven/hobs didn't work in one kitchen. This left 8 hobs between 78 people and usually 2-3 hobs didn't work
Laundry – 3 washing machines and 1 dryer. I recommend only washing your farming clothes in these washing machines. Any clothes you put in will come out dirty.
Wi-Fi – The hostel's Wi-Fi rarely worked, and even when it did work, it was painfully slow to use. Checking Facebook/emails/WhatsApp was a struggle, streaming a video was impossible.
Transport – The transport to and from work is free. The vans are old and in poor mechanical condition. It wasn't uncommon for the vans to break down.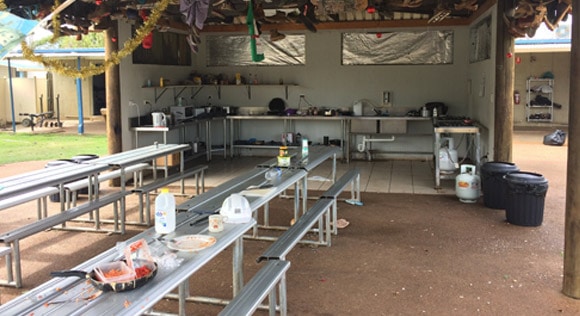 The hostel isn't clean. The kitchen is always a mess and the communal shower gets a quick mop of the floor each morning. The hostel doesn't employ cleaners and the reception staff/drivers also have to fit in cleaning duties among their other roles.
Picking Cherry Tomatoes
Picking cherry tomatoes isn't strenuous work. It's dull and poorly paid but it's one of the least demanding farm jobs available. You work at your own rate, have breaks whenever you wish and generally don't work more than 8 hours. Some days you leave at 4.00am and are back at the hostel before 9.00am.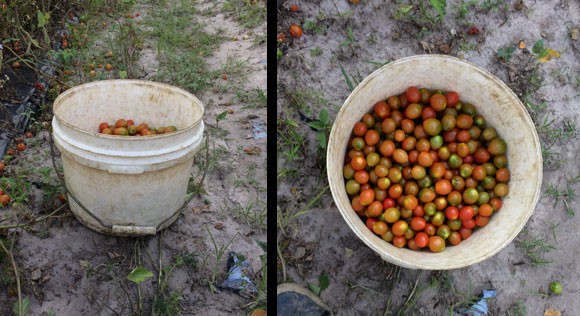 The size of the cherry tomato bucket
The pay is terrible. It is $4.80 per bucket and if you pick 10 buckets you've had a good day. Some people go and pick one bucket just so their day is signed off. I tried to make a bit of money picking cherry tomatoes but never picked more than 10 buckets in one day. The most I saw someone pick from the hostel was 14 buckets. It's not just your picking speed and willingness to work hard that dictates your wage, but the amount of fruit available on the vines. Some days there's just nothing to pick. Other days you have to pick the rotten tomatoes and leave them on the floor, which you don't get paid for since you're paid by the bucket.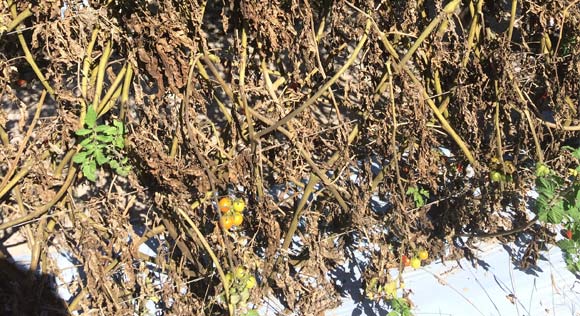 Sometimes there's just nothing on the vines
The staff at cherry tomatoes are not friendly people. Be prepared to be shouted at and treated poorly. Don't expect to be paid for everything you pick. What I picked and what I got paid for picking never matched up. I couldn't be bothered to dispute it for $4.80 but it is a kick in the teeth when you are already working for such a low wage. Your pay is docked if your bucket isn't deemed full/overflowing.
The Work List
You continue picking cherry tomatoes until a better-paid job becomes available. If you are placed on a farm that doesn't have 7 days a week of work available, you have the option to pick cherry tomatoes on your days off to reach your 88 days faster. Farms don't have set working days; you could work 7 days one week and then 4 the next. At my farm I was working 3 or 4 days a week in the first month. Once the produce was ripe I worked 7 days a week. It varies between farms and depends on the produce that requires harvesting.
Luck plays a major role in which farm you will be allocated. There's meant to be some kind of structure to the waiting list but it isn't obvious or transparent. I saw new arrivals placed on a good-paying farm before others in the hostel. Some people never worked an hourly-paid job and did the full 88 days on piece rate. There's no logic in the system. Some people quit a farm because it was too hard and were rewarded with a better-paid job because they were back on the waiting list at the right time.   
The list is pinned to the wall at 7.00pm each night. That is when you find out when/where you are working the following day.
Three Strikes and Alcohol
The hostel runs a "three strikes and you're out" policy. It's very similar to the working list with it's mystery and lack of transparency. You aren't told when you receive a strike. You get a strike for being fired, missing work, turning up hungover, quitting your job or any random thing the hostel deems worthy of a strike, such as talking too loudly after 10.00pm. I saw people been kicked out with only 2 strikes and others still on the work list with 7 strikes. It's a system that is used as and when the hostel feel like using it.
There is a zero tolerance approach to alcohol in the hostel. You are asked to leave the hostel immediately if any alcohol is found in your room. I can understand this rule to prevent mayhem in the hostel but people were kicked out for forgetting they had left a bottle of Corona in their bag. You can arrive at the hostel steaming drunk but you cannot store any alcohol in the hostel.
Security
Security is non existent. There are no locked gates to stop anyone venturing into the hostel. Anyone from the street can access the kitchen, communal area, swimming pool, fridges and laundry room without being stopped. This happened on numerous occasions when Bundaberg locals would come help themselves to work shoes that were left on the shelves outside of rooms. Those who finish their 88 days often leave items of clothing in the "free bin" for others in the hostel. Locals also used to help themselves to items from the free bin. On one occasion a room was broken into and a full backpack, a lot of cash and a new mobile phone was stolen. No compensation was offered to anyone who lost their belongings.
They have CCTV around the hostel but it is used to monitor the occupants rather than trespassers.
Although there were no incidents with theft from other guests in the hostel, there were no lockers in the rooms or anywhere to store food in the kitchen. Everything had to be kept on a table in your room or under your bed. No wardrobes or shelves for storing clothes, either.
My Earnings
The same question is on everyones' mind before they arrive: How much will I earn? I've detailed my earnings below and I would estimate my earnings are somewhere in the middle at the hostel. A few people definitely earned more than me and others definitely earned less.
All earnings below are after tax. It's worth noting that on my farm it was standard to work 10-12 hours each day. I wasn't signed off for 7 days on my farm so I worked the full 88 days. Not many farms signed off individuals for 7 days during my time at the hostel.
Money earned from 22 days on cherry tomato farm: $647
Average amount earned per day on cherry tomato farm: $29.40
Money earned from 66 days on allocated farm: $6733
Average amount earned per day on allocated farm: $102
Average amount earned per day: $83.86
Summary
I don't regret my time at North Bundy Backpackers but changing hostels may have resulted in me leaving Bundaberg with a lot more cash. I met a lot of good people and had some serious laughs at the hostel and farms.
If I were to do it again I would call the other hostels in Bundaberg and ask what hourly jobs are currently available.
During my time the best hostel seemed to be The Grand (Dingo Blue 2) for hourly-paid jobs. People left North Bundy Backpackers and received a full-time hourly job instantly. Other popular hostels in Bundaberg include Federal, City Centre, Cherry Backpackers, East Bundaberg and Cell Block.
If you have any questions about the hostel or farming work in general, feel free to drop me an email.