Overview
Height: 950 m; 3117 ft
Distance: 8 miles; 13 km
Difficulty: Hard
Estimated Time: 5 hours
Map: Ordnance Survey Explorer OL5 The English Lakes NE Area
Route: View in Google Maps
GPX File: Download GPX file (desktop only) – What is a GPX file?
Helvellyn is the third-highest point in England. Scafell Pike is the highest point and Scafell is a close second. Helvellyn matches Scafell Pike for popularity among hikers: it's estimated that over a hundred thousand people climb Helvellyn each year.
Car Parking and Facilities
Car park address: Beckside Car Park, Glenridding, Penrith, CA11 0PA.
The Car Park for Helvellyn is in Glenridding. It costs £8 to park for the full day and the car park's proceeds are used to maintain the local area and Helvellyn routes. The car park fills up quickly, so arrive early if possible. You can pay by cash or card for parking in Glenridding. The car park has toilets. You can view the most up-to-date information on the Lake District's website.
Glenridding has pubs, cafes, equipment shops and convenience stores.
Equipment
It is important to prepare for the trek to the summit of Helvellyn. You will carry all clothing, food, water and equipment in your backpack. The weather at the summit of Helvellyn can be very different to the weather in Glenridding, so ensure you have warm clothes and waterproofs. Take enough water for the return walk. A minimum of 2 litres is recommended.
You can view a full equipment list that covers everything required to complete Helvellyn.
Route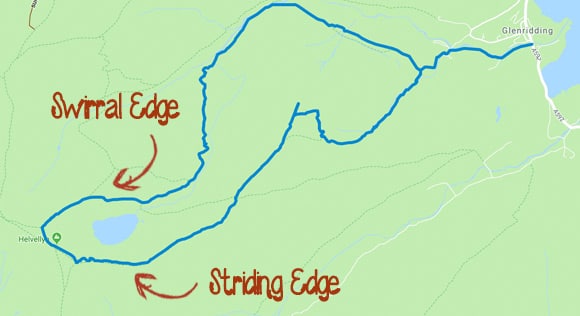 View route in Google Maps.
There are multiple routes up Helvellyn. The popular route, and for good reason, is climbing Helvellyn up Striding Edge and coming down using Swirral Edge. The loop walk requires some light scrambling and provides an element of danger walking across Striding Edge.
Map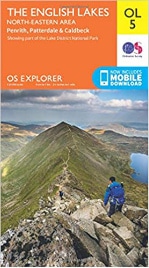 The map you need for Helvellyn is OS Explorer OL5 The English Lakes – North Eastern area (OS Explorer Map).
Accommodation
If you're staying local to Glenridding, you can visit a list of nearby accommodation. Depending on your level of comfort and budget, you can choose from hotels, B&Bs, hostels, camping and bunk barns.
Starting the Helvellyn Walk
From the Glenridding car park, head towards the main road and cross the bridge over the stream. Turn right so the stream is on your right-hand side and follow the road.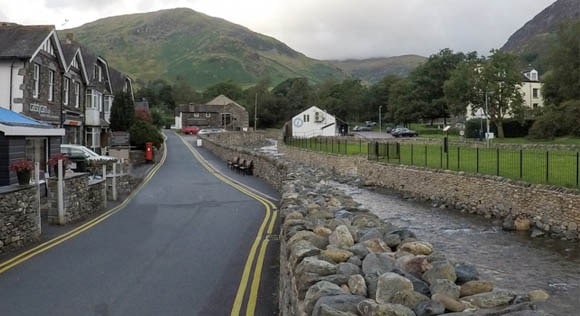 Keep following the path and the stream. Turn right at the cross section, following the signpost for "Helvellyn".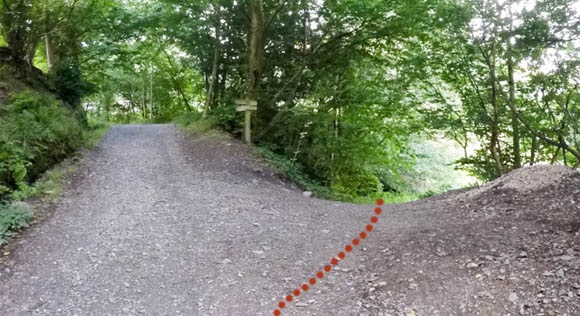 The path continues with the stream on your right-hand side. You will pass Gillside campsite on your left-hand side.
Turn left onto the main road.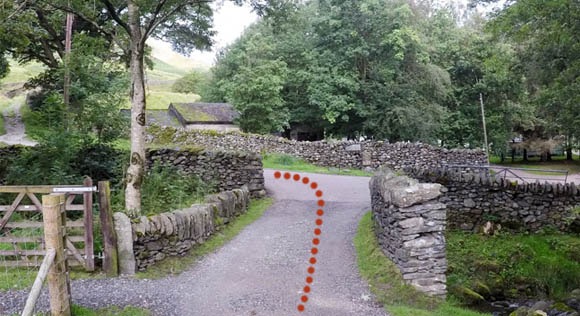 Turn right leading to the stone wall.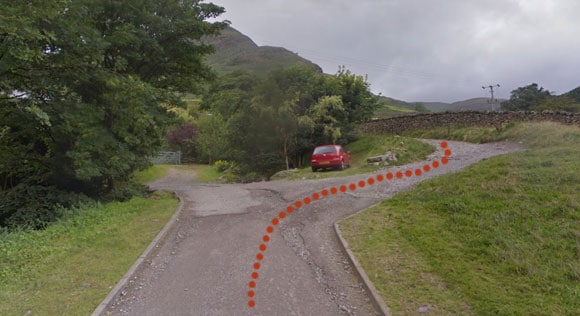 Keep left at the next split in the path. Follow the signpost for "Helvellyn via Miresbeck 3 miles".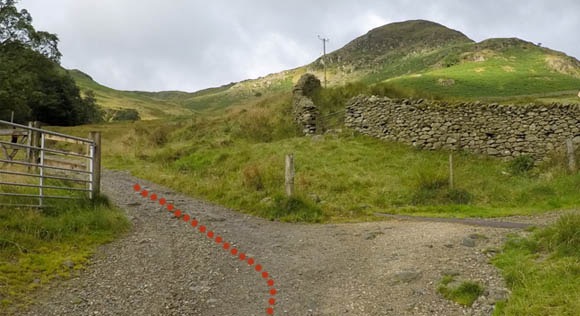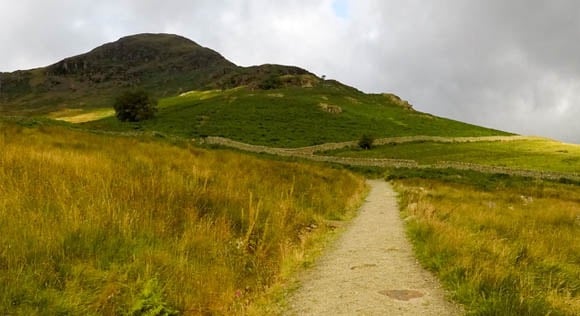 The next turn isn't obvious because you come away from the main path. Go through the gate and turn left.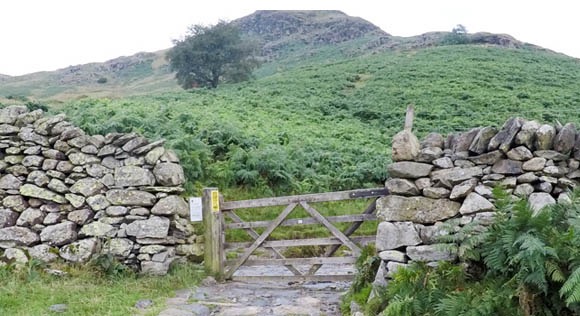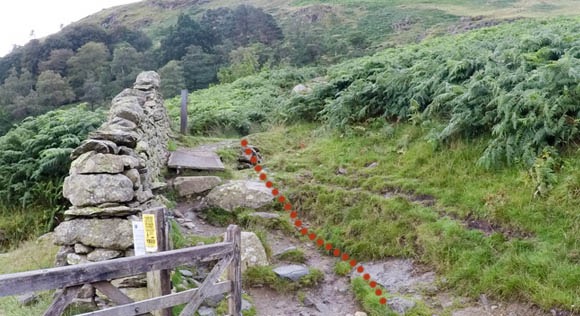 The next section is tough. You gradually ascend to 700m, which is the majority of Helvellyn's height. You pass Mires Beck and have great views of Ullswater behind you.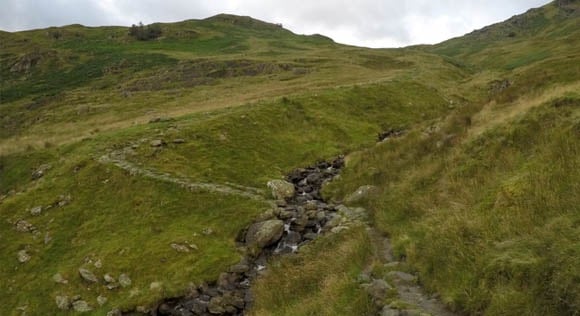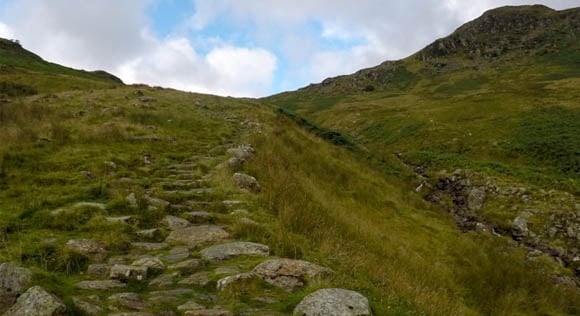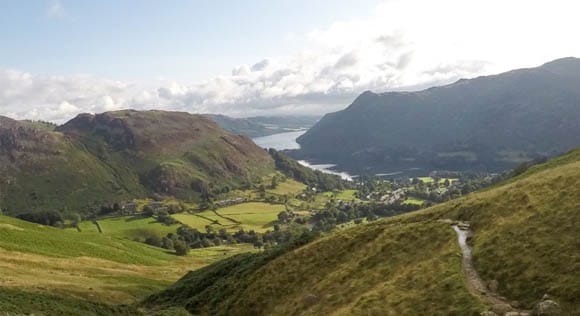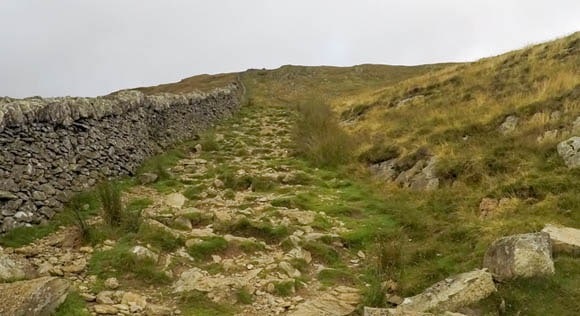 Turn right following the rocky path away from the stone wall.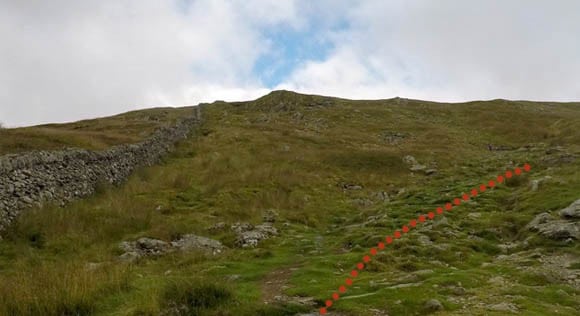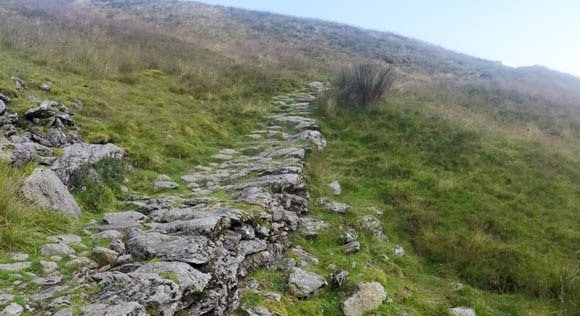 A grassed route leads away from the main path. This optional detour takes you to Birkhouse Moor, standing at 718 metres with great views from the top. It's a 5-minute detour if you wish to reach the peak of Birkhouse Moor and summit one of the Wainwrights.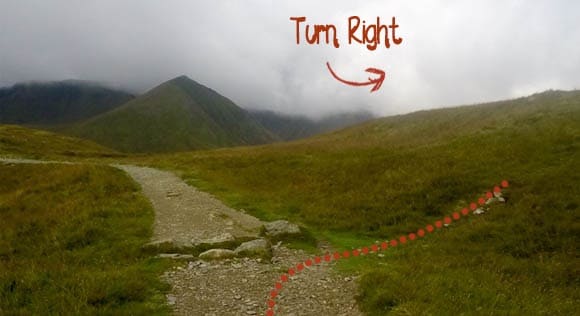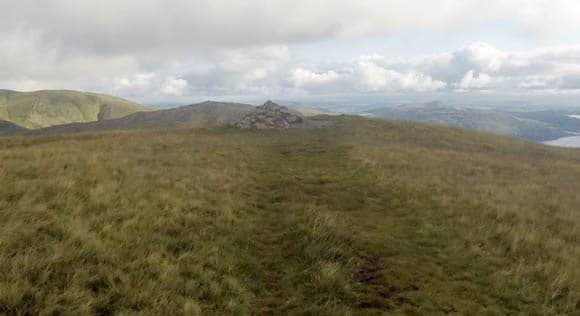 Return down the same path from Birkhouse Moor and carry on towards Helvellyn.
On a clear day Helvellyn comes into view quickly. You can see Striding Edge and Swirral Edge too.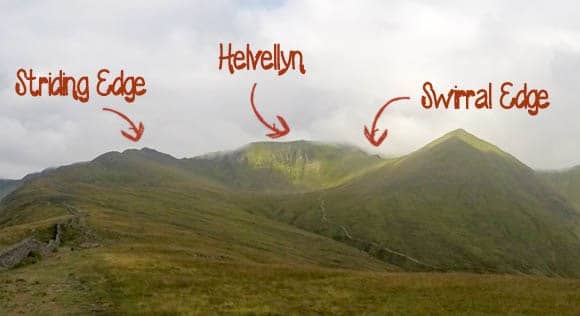 The Hole-in-the-Wall section on the map is identifiable by the ladders leading over the stone wall. Keep going straight up towards Bleaberry Crag. The path becomes less smooth and rocky underfoot.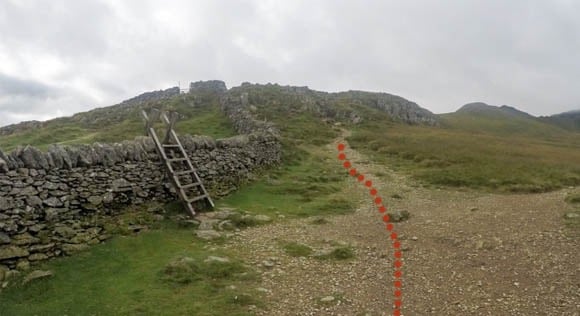 The Red Tarn comes into view and tempts hikers on a hot day.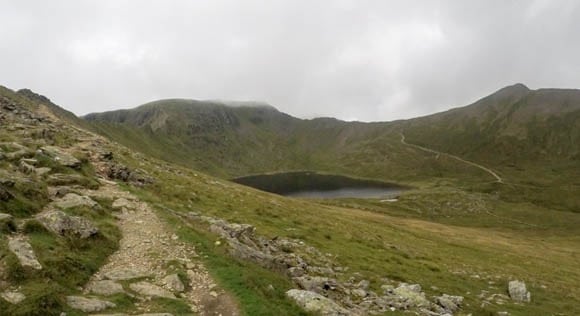 Striding Edge
Striding Edge is what makes Helvellyn such a popular climb. It is classed as a Grade 1 scramble (doable for hill walkers in good conditions). Some experienced scramblers have jokingly classed Striding Edge as a Grade 0.5 due to its simplicity for experienced scramblers. It's still a challenge for first timers.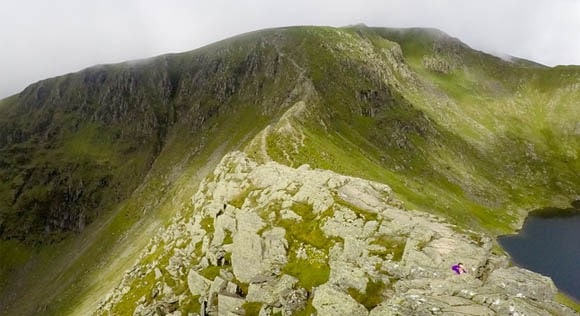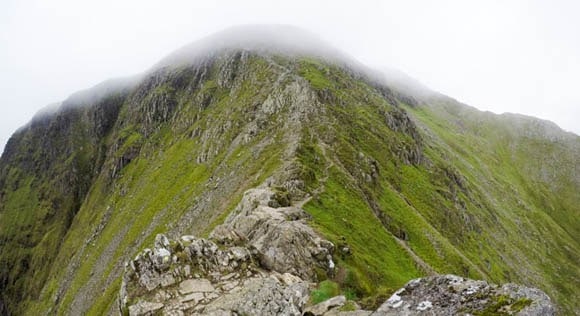 There are many options to cross Striding Edge. The brave can climb straight over the ridge but there are easier paths to follow around the edges.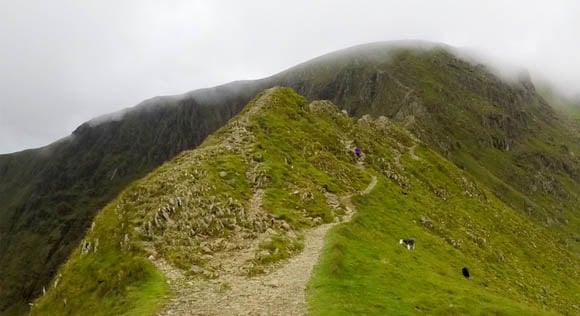 Britain's Mountain Challenges have a great section on Striding Edge. The video below shows the scrambling required and gives an understanding of what is involved when climbing Striding Edge.
The final section of Striding Edge has a steep climb down.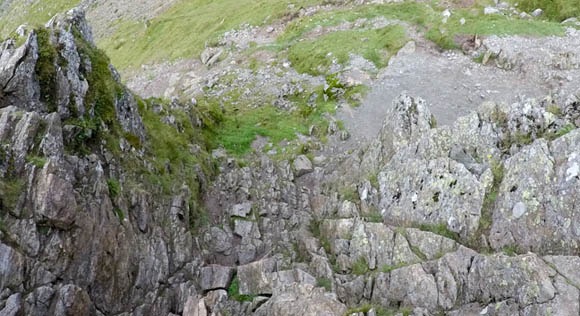 After finishing Striding Edge, it's a steep walk to the to top of Helvellyn. Climbing the final section of Helvellyn provides great views of Striding Edge.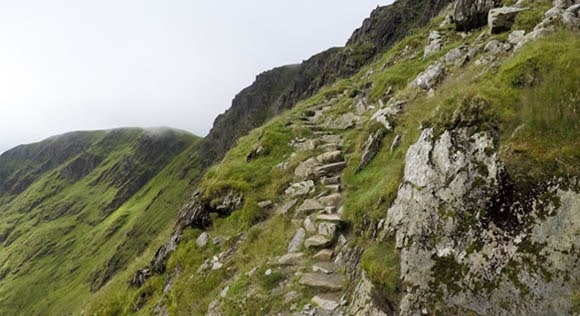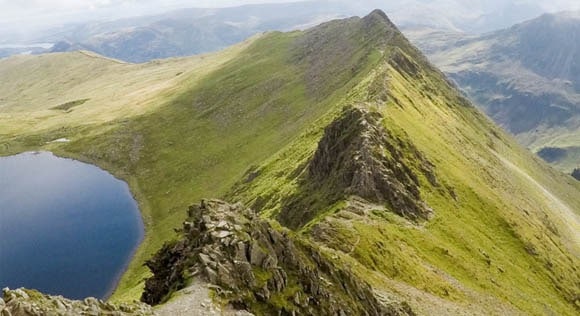 You will pass the memorial of Charles Gough who sadly died from a fall while summiting Helvellyn in 1805. Charles's dog guarded the decomposing body for 3 months before being discovered.
Helvellyn has a level summit. Once you reach the plateau you will see the stone shelter and trig. Reaching Helvellyn's summit after 3 hours is a good indication that you will complete the full walk in 5 hours.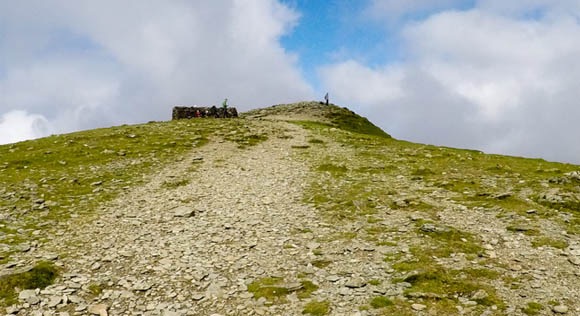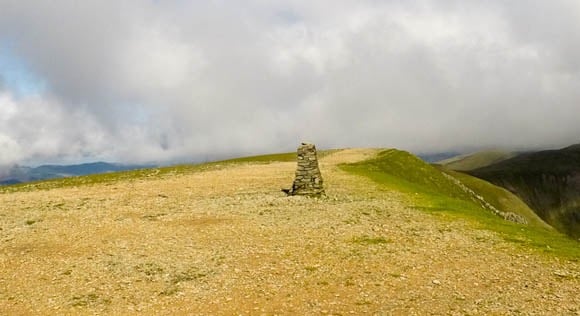 Continue walking past the trig until you reach the small cairn and can see Swirral Edge. Start your descent down Swirral Edge. Swirral Edge is not as extreme as Striding Edge and is much easier to climb down.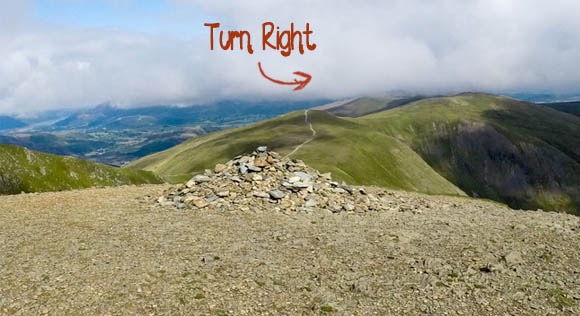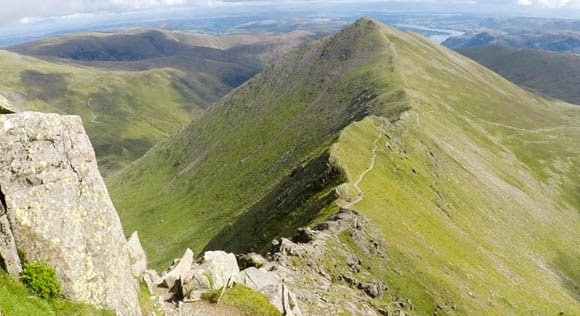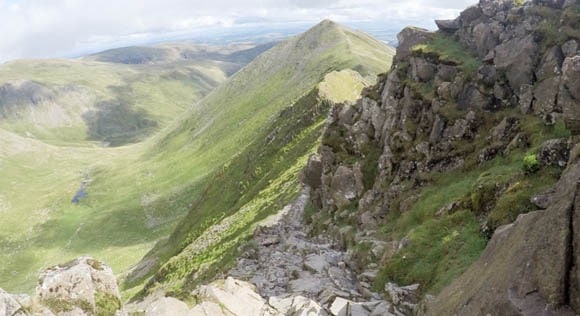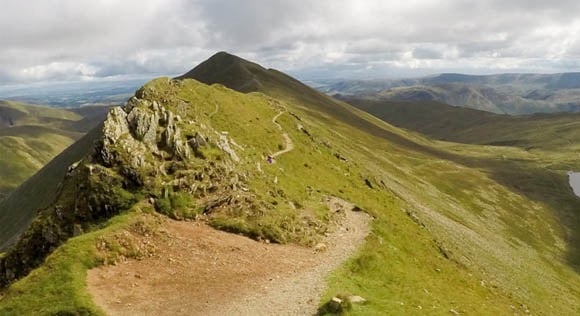 Keep right at the next junction of footpaths to start the return to Glenridding Car Park. For those wishing to conquer another peak, you can turn left and summit Catstye Cam (890 m).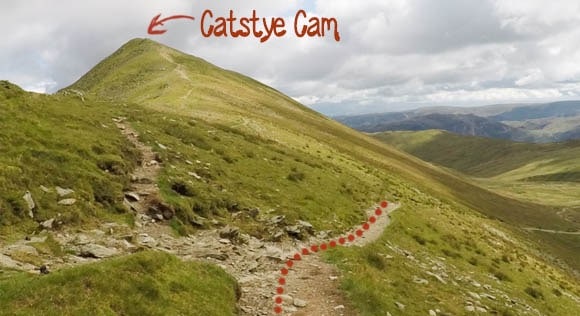 Keep left at the next turn. Following the route away from Red Tarn.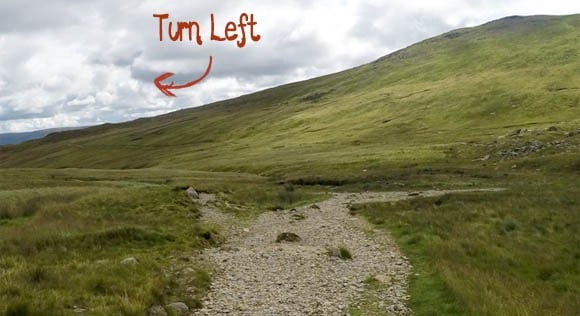 The route follows Red Tarn Beck. There are a couple of bridges to cross along the way.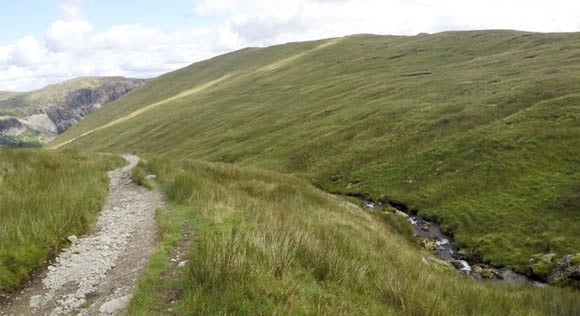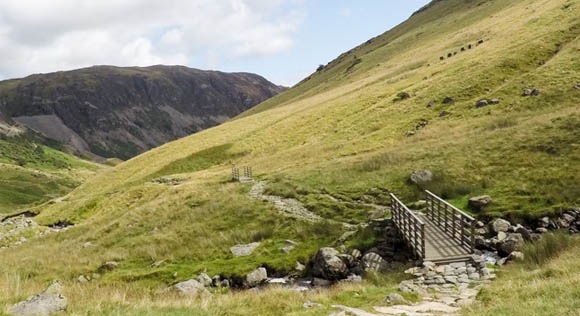 Keep right at the next bridge. The route takes you along a ridge of Moorside.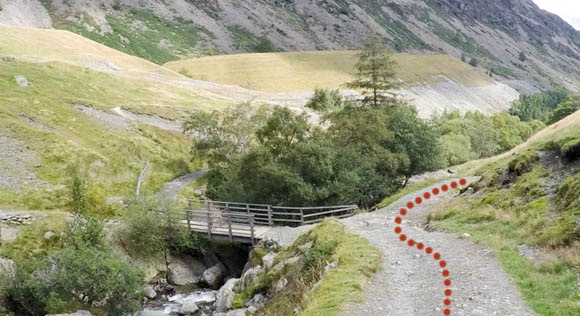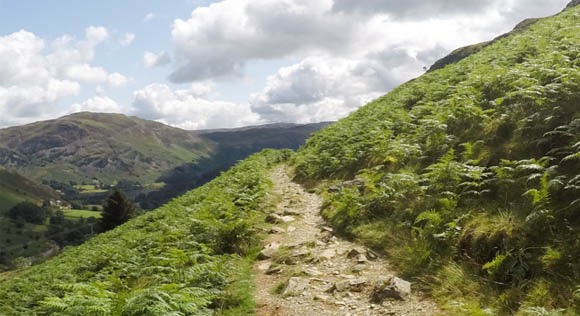 Take the cut through leading to the stone wall and turn right at the bottom.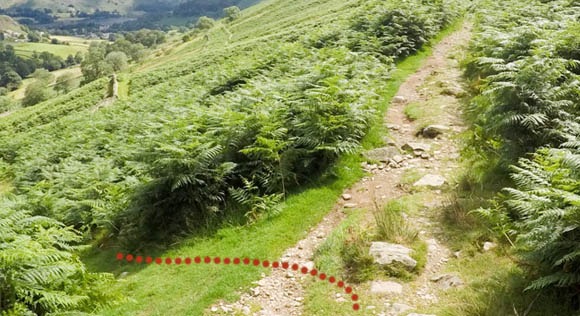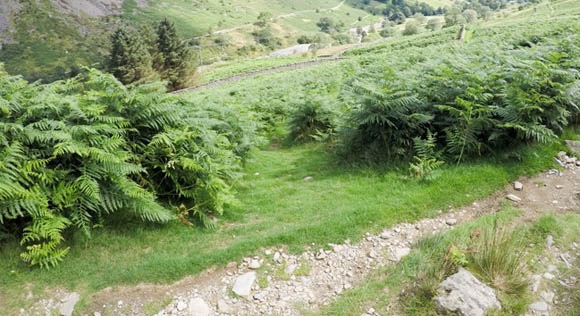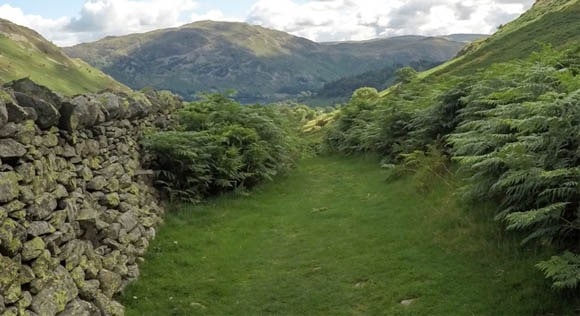 The path leads back to the gate you crossed though at the start of the walk.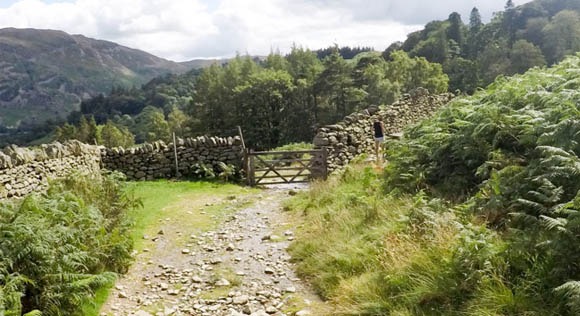 Head through the gate and turn right onto the path next to Gillside campsite.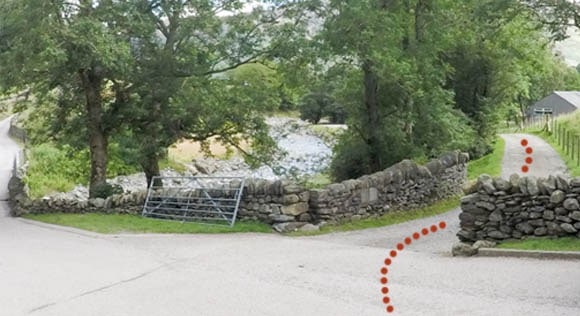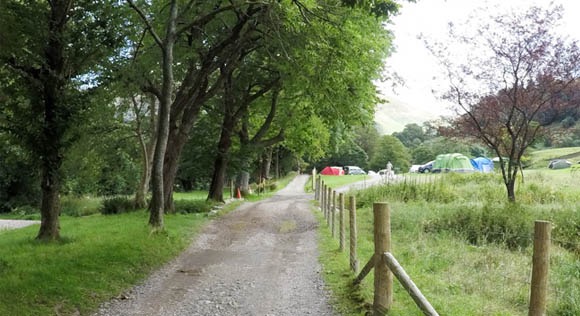 The path leads back to Glenridding. Congratulations on completing Helvellyn!
Frequently Asked Questions
How long does it take to climb Helvellyn?
The walk up Helvellyn takes approximately 3 hours. It's always quicker coming down the peak and you can return to your starting point in 2 hours. The full loop walk takes about 5 hours depending on your fitness level and rest stops.
Do you need any specialist climbing equipment to climb Helvellyn?
No. Helvellyn is completed by walking and small sections of scrambling.
Is Helvellyn dangerous?
Helvellyn is not dangerous if you're sensible and prepared. Plan your trip during good weather if you're new to hiking. Most accidents in the peaks are medical emergencies, such as heart attacks, which could indicate people are pushing themselves more than normal to complete a challenge. Deaths do occur from falls. In 2015, 5 deaths occurred on Helvellyn in the first half of the year. Slips, trips and falls can happen anywhere, but are more likely to be fatal up a mountain. The first accident of 2020 occurred in January, when someone fell 60 ft from Striding Edge in poor conditions.
Tens of thousands of hikers complete Helvellyn each year and only a few accidents occur.
Is Helvellyn hard to climb?
Most of Helvellyn's route is completed by walking. It can be steep in areas, but the section that people worry about is Striding Edge. Striding Edge is a Grade 1 scramble. The British Mountain Council describe a Grade 1 scramble:
A classic grade 1 scramble is essentially an exposed walking route. Most tend to be relatively straightforward with many difficulties avoidable, and some of the most popular days out in the British mountains are 'easy' Grade 1 scrambles.

BMC
If you're confident on your feet and used to other forms of exercise, Striding Edge will be easy for you. If you're not so sure, take it steady and look for the easiest path across Striding Edge.
What is the easiest route up Helvellyn?
The easiest route is from Thirlmere. It is less popular than starting at Glenridding. The route is quieter but not as exciting as Striding Edge.
Can children climb Helvellyn?
Yes, children of all ages climb Helvellyn each year.
Can dogs walk up Helvellyn and Striding Edge?
Yes, dogs are allowed on Helvellyn. The size and age of your dog may depend on how well they handle the scrambling sections. Make sure you take a lead in case you need control of your dog.
Do you need a guide to complete Helvellyn?
No. You can arrange your own walk with a map and compass. If you wish to attend a guided walk, contact Lost Earth Adventures.
Are there any toilets on Helvellyn's route?
There are public toilets in the Glenridding Car Park at the start of the walk. There are no toilets on the route.