Overview
Pen-y-ghent Height: 694 m; 2,227 ft
Whernside Height: 736 m; 2415 ft
Ingleborough Height: 723 m; 2,372 ft
Distance: 40 km; 25 miles
Time: 12 hours (to complete the challenge)
GPX File: Download (desktop only) – What is a GPX file?
Route: View route in Google Maps
Yorkshire Three Peaks Challenge
The Yorkshire Three Peaks are situated in the Yorkshire Dales and the challenge consists of climbing the summit of Pen-y-ghent (694m; 2,227 ft), Whernside (736 m; 2415 ft) and Ingleborough (723m; 2,372ft) in less than 12 hours. The 25-mile circular route is popular amongst avid hikers, challenge seekers and charity fundraisers. The Yorkshire Three Peaks is accessible for everyone and a range of people complete the 12-hour challenge or just tackle one peak at time.
The walk is signposted in areas, but you cannot rely on signposting as your only means of navigation, especially during off-peak times when other walkers may be scarce. A map and compass is highly recommended to complete the hike.
The challenge is defined as completing the circular route in less than 12 hours. Groups may take longer than 12 hours and others may finish sooner, it depends on the size and fitness of your group. The fastest time recorded is 2 hours 29 minutes 53 seconds.
Route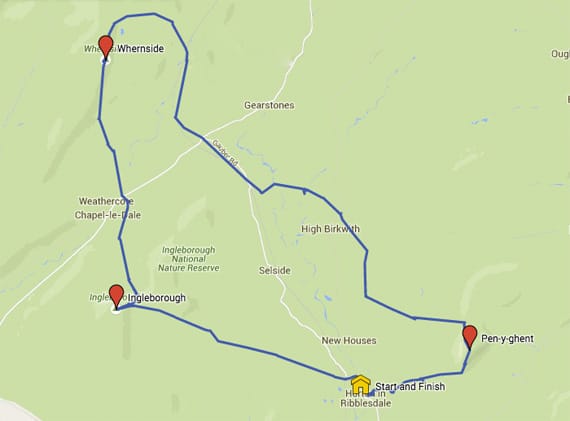 View route in Google Maps
The main checkpoints along the route are:
Horton-in-Ribblesdale (start)
Pen-y-ghent summit
Ribblehead
Whernside summit
Chapel-le-Dale
Ingleborough summit
Horton-in-Ribblesdale (end)
You can view a detailed guide between each checkpoint. Each section of the guide has walking directions and images.
To help you navigate the Yorkshire Three Peaks, view the OS Map and plotted route and, if you also wish to navigate using your smartphone's GPS, a guide to using a digital map.
You can plan your finish time and determine your checkpoints by using estimated checkpoint times.
Marketing
Let everyone know you are completing the Yorkshire Three Peaks with free posters to download and share on social media, your fundraising platform or website. 
Starting Point: Horton-in-Ribblesdale
There is a train station and allocated car park a few hundred metres from the Pen-y-ghent Cafe.
The popular starting point of the Yorkshire Three Peaks is Horton-in-Ribblesdale, due to the pubs, train station and available car parking. Your starting point can, technically, be anywhere on the route. People may wish to start their challenge at an alternative location to avoid the crowds. For beginners, it is recommended to start in Horton-in-Ribblesdale – following other walkers can reduce the time spent checking the map.
Equipment
It is important to be prepared for the hike. You will be carrying all clothing, food, water and equipment in your backpack. Your warmth and dryness can impact the full day; being wet and cold is never fun. It is better to take layers of clothing that can be removed and added easily.
You can view a full equipment list that covers everything required to complete the Yorkshire Three Peaks Challenge.
Accommodation
Depending on the amount of daylight available during your trip, it may be beneficial to arrange prior night's accommodation to ensure you are refreshed for an early morning start. Furthermore, a large meal and prepared bedroom may be the perfect end to your day.
Accommodation has been separated into hotels, B&Bs, hostels and bunk barns. 
Final Checks
Before heading to the Yorkshire Three Peaks, make sure you run through a final checklist and visit the frequently asked questions page.
Guided Walks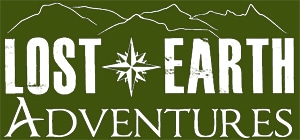 If the thought of navigating with a map and compass is daunting, you can have a guide from Lost Earth Adventures direct the way for you. The groups generally finish between 10-12 hours but always accommodate to the slowest walker. It's only £49 per person and the guided walks run frequently throughout the year.
See the list of available dates in 2021. 
Finishers T-shirt
After completing the Yorkshire Three Peaks Challenge you can wear your finisher t-shirt with pride and joy. You will have earned it. The t-shirts are available in different colours and sizes.
View the Yorkshire Three Peaks Finisher T-shirts on Think Adventure's Teemill store to see the range of colours available.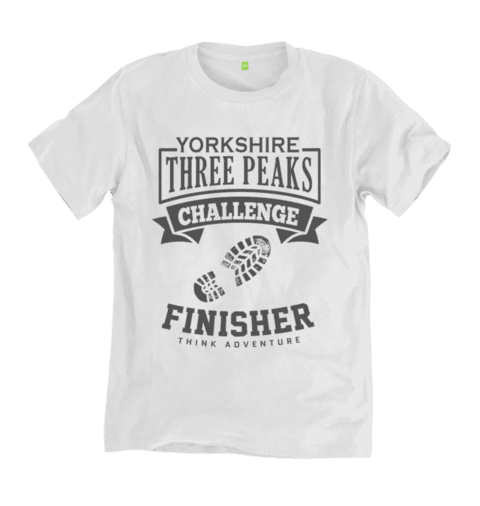 Feel free to contact me if you have any further questions about the Yorkshire Three Peaks.