Download Pocket Earth Pro from the App Store
A digital map has its advantages over a paper map. It also has its disadvantages. The best method is to combine the two; have a digital map on your smartphone or tablet for the added benefits of GPS and have your paper map for back up.
Pocket Earth Pro
There are numerous maps available for smartphones and tablets. Pocket Earth Pro is highly recommended as the map of choice for iPhone or iPad. It has been tried and tested in the Yorkshire Dales and proved to be a reliable navigational companion. Pocket Earth Pro is only £3.99 and a worthwhile investment for any hiker who doesn't want to purchase a handheld GPS receiver. 
Features for Hikers
Offline maps are downloaded to your device
Download by country or area
Import and export .GPX files
Hiking routes from OpenStreetMap
Reliable GPS even in offline mode
Drop pins to save locations
Pre-loaded points of interest
Pocket Earth Pro can be used for more than the hiking:
No roaming charges for using maps whilst abroad
Turn-by-turn navigation for cars
Cycling routes from OpenStreetMap
Downloading Maps for Offline Use
This is where Pocket Earth Pro beats the competition, including Google Maps. Downloading maps for offline use ensures your map will be available regardless of your internet or mobile phone signal. Your data usage will be greatly reduced if you download the map to your device – just ensure you are using a Wi-Fi connection when downloading the map. You can pan, zoom, track your position using GPS and save favourite locations when using the map offline.
Download England or City?
You can download maps by city on Pocket Earth Pro, but it is difficult to determine each city's boundary. The easiest and safest option is to download the map of England to ensure full access whilst using the map offline. The England map is 368 MB in memory, so it is a relatively small download, even for a smartphone with 8 GB of memory. You can easily delete the map once it is no longer required.
Tap the menu icon in the bottom-right corner
Select Get Maps
Type "England" in the search bar and select England, United Kingdom.
Press "Download". It will take approximately 5 minutes to download depending on your internet connection. It is recommended to download the file while connected to Wi-Fi to save on your mobile internet usage.
Using GPX files
Don't forget to download the Yorkshire Three Peaks GPX file.
Another helpful function of Pocket Earth Pro is the ability to import GPX files. GPX is shorthand for GPS eXchange Format. A GPX file is a log of recorded locations and they provide a cycling/hiking/running route for someone else to load over their map. This enables the user to easily follow a predetermine route with the assistance of GPS.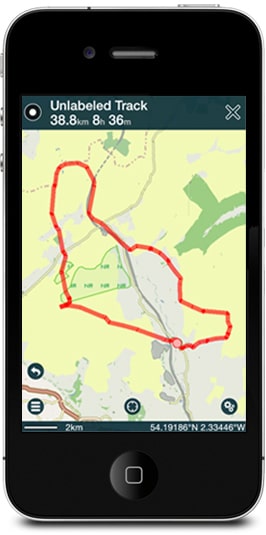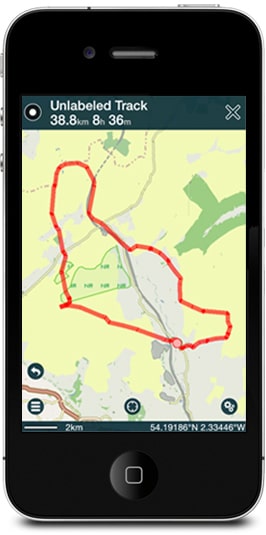 The Yorkshire Three Peaks GPX file (red) overlaying the Yorkshire Dales on Pocket Earth Pro.

Zoomed in on the Yorkshire Three Peaks route with GPS navigation enabled.
Using GPS to follow a highlighted route is a huge advantage when hiking. It is simple to follow, hard to get lost and creates peace of mind when you know you are heading in the right direction.
How to Import a GPX File to Pocket Earth Pro
Download the Yorkshire Three Peaks GPX file.
The easiest method is to email the .gpx file to the device where Pocket Earth Pro is installed.
Email the .gpx file to the allocated device and open the email.
Tap and hold the email attachment.
Click Open in Pocket Earth
Click Import
The final step is to click View. This will overlay the GPX route on the map.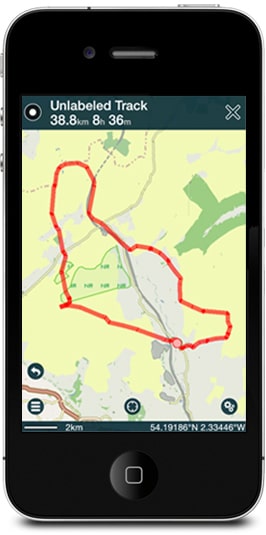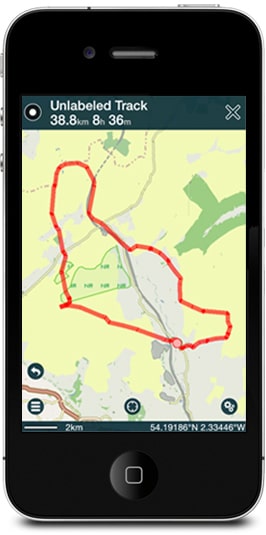 If you close the route by mistake, you do not need to import the track again from your emails. The route is saved in Pocket Earth Pro and it is simple to re-open.
Press the settings icon in the bottom-right corner of the screen.
Scroll down to EXPORT – IMPORT and select Import.
Select Yorkshire-Three-Peaks-Route to restore the GPX route on the map.
Using GPS with Pocket Earth Pro
GPS is a very convenient tool. However, a hiking GPS receiver will cost at least £100. For those who will rarely use a GPS receiver, a smartphone can be used instead. The downside of using a smartphone for GPS navigation is the limited battery life.
There are 3 possible modes for using your smartphone to pinpoint your location:
mobile signal enabled, internet enabled
mobile signal enabled, internet disabled
mobile signal disabled (Airplane Mode), internet disabled.
It is a common sense answer to increase battery life: the more functions you have enabled and the more you use the GPS, the quicker the battery life will drain. 
Switch your phone to Airplane Mode every time it is not in use.
Disable the internet since a mobile-signal-only GPS search only takes a few seconds longer to provide your location. When you do require GPS, enable the mobile signal (by disabling Airplane Mode) and use it for however long is needed. Once you have your position and know the route to follow, turn your phone back to Airplane Mode. This will ensure your battery lasts for the full day.
Final Thoughts
It goes without saying that a digital map should not replace a physical map. It is an additional tool to help navigate through the countryside. The battery could die or the device could break and being in the middle of nowhere without a map can be dangerous.
Play around with Pocket Earth Pro before you venture to the countryside. Find its functions and ensure you know how to use it effectively. You can view more of Pocket Earth Pro's functionality and instructions on their website.
Pocket Earth Pro on Android
Pocket Earth announced it was working on an Android Version of their map.
Unfortunately, an update was provided over a year later and there still isn't a release date for Pocket Earth for Android.
Pocket Earth Pro is unmatched on iPhone and iPad. Hopefully the developers at Pocket Earth Pro are busy working on an Android version of their app. In the meantime, a variety of maps can found for Android on Google Play. Locus Maps Pro, for example, has offline maps and the ability to import GPX files.
Download Pocket Earth Pro from the App Store
Recommended Pages for the Yorkshire Three Peaks