"MicroAdventure" is a term coined by Alastair Humphreys. Alastair campaigns for everyone to embrace the outdoors and have an adventure regardless of their location, free time or financial situation. A Microadventure is just that; a small adventure that requires little planning or equipment. 
"Adventure is a loose word, a spirit of trying something new, trying something difficult. Going somewhere different, leaving your comfort zone. Above all, adventure is about enthusiasm, ambition, open-mindedness and curiosity. If this is true then "adventure" is not only crossing deserts and climbing mountains. Adventure can be found everywhere, every day and it is up to us to seek it out. Adventure is a state of mind."
Alastair Humphreys
Alastair is running the MicroAdventure Challenge throughout June, 2016. The challenge encourages his audience to have a microadventure and submit a blog post, social media photograph or video. Alastair's goal is for a microadventure to take place in every county of the UK.
My microadventure plan was simple: I wanted to catch a lobster, I wanted to go sea fishing and I wanted to wild camp. I wanted an adventure with a seafood feast as the finale. This isn't an adventure to a fisherman. It's a day job with a night of sleeping rough. To me, this is new and an adventure nonetheless.
Catching a Lobster in the UK
Thinking of my idea was a lot easier than putting it into motion. I did not realise how many rules and regulations are in place for conservation of sea life.   
The Association of Inshore Fisheries and Conservation Authorities (IFCA) are responsible for issuing Limited Shellfish Permits. The permit allows recreational fisherman to place 10 lobster pots out at sea and a daily catching limit of 2 lobsters and 10 crabs. The IFCA are separated into 10 regional areas and you apply to the area where you will be fishing. I was placing my pot in Scarborough, North Yorkshire, so my licence was issued from the North East IFCA.
It is free to apply for a licence and you are issued with 10 tags. A tag must be secured to each lobster pot. In addition to the tags and daily catching limit, there are laws governing minimum landing sizes. It took a while to wrap my head around the laws but after a couple of hours online I was ready to depart without risking a hefty fine.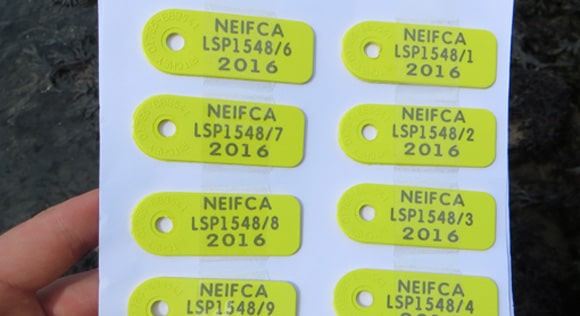 I had all the gear and no idea.
I had knowledge of the laws but not a clue how to actually catch a lobster.
Scouring forums and Google, the common agreement among fisherman was that lobsters love rotting fish. In preparation for my trip I left a mackerel (from Tesco, sorry) to rot in my garden for about 6 weeks. It decayed to a paste-like form with bones. The stench was unbearable. It was vile. It was perfect. 
Lobster pots are normally deployed from a boat, but I intended to place mine from the shore. I wasn't even sure if it was possible to catch a lobster this way. Kevin Rushby, a writer for the Guardian, proved you could. He foraged for seafood in North Yorkshire and bagged two lobsters from setting a pot from the shore. It was the verification I needed for me to give it a try.
Heading to Scarborough
There are two low tides and two high tides each 24 hours. I checked the tide times and the low tides were on Friday at 1.41pm and 2.01am on Saturday. I would be checking my pot and re-baiting in the dark. I was slightly concerned but I didn't think it wouldn't be too much of an effort.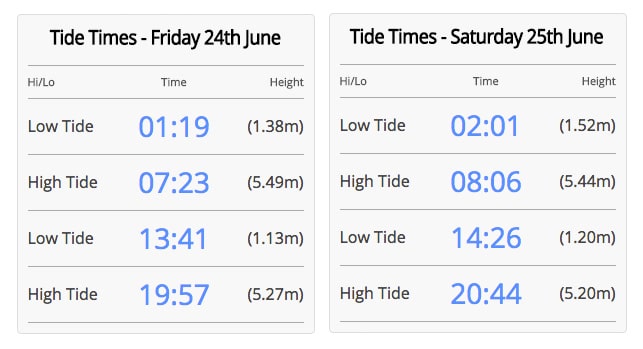 I tagged my lobster pot and placed it in a rocky and secluded area. The last thing I wanted was for someone to accidentally stumble across my pot and, from what I read on forums, lobsters were more likely to be found in rocky areas.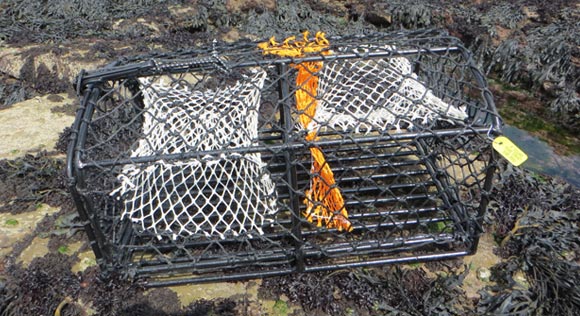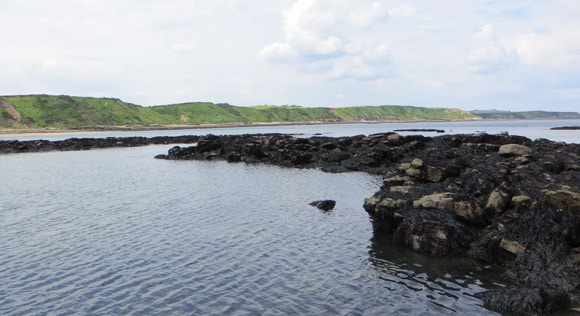 After my lobster pot was set up. I headed to Scarborough Pier to fish for mackerel. I had never sea fished before and was trying to catch mackerel with lures – I attached a pre-made mackerel rig to a my carp rod. A heavy weight is attached at the end of the rig and cast out into the sea. Mackerel dive-bomb at the lures thinking they're fish and get caught on the hook. Mackerel rigs have multiple hooks and it is possible to catch several fish on a single line. It was a fun method of fishing as you are constantly casting and reeling in to keep the lures moving.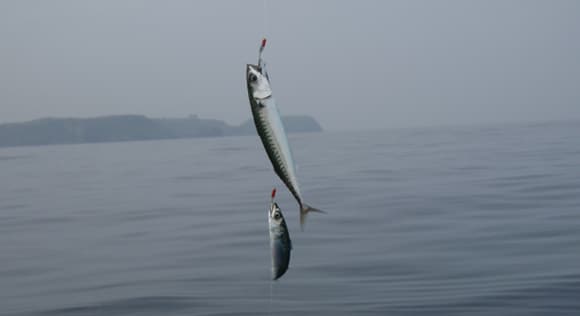 I couldn't work a camera and rod at the same time, but this is how feathering looks. Credit
I didn't catch a mackerel, but I did catch 10 coalfish on the Friday. A kind fisherman next to me identified my catches as I was clueless. I did intend on eating my catches, but Friday was a practise as I had no intention of setting a fire and cooking the fish when wild camping.
Wild Camping in North Yorkshire
After a successful day of fishing and placing my lobster pot in a good location, I was ready to sleep. I checked my map and decided to head for a nearby forest. This was my first time wild camping solo and I thought a forest would be a great way not to be disturbed by dog walkers or farmers. I somehow ventured 7 miles outside of Scarborough – I was on my bike – and it was getting dark. I found what looked like an ideal location and started walking towards a small forest. I stepped into an unseen stream and almost lost my shoe. It was now even darker and my left foot was sodden. I hit the road and found another forest, with no other option I set up my tent.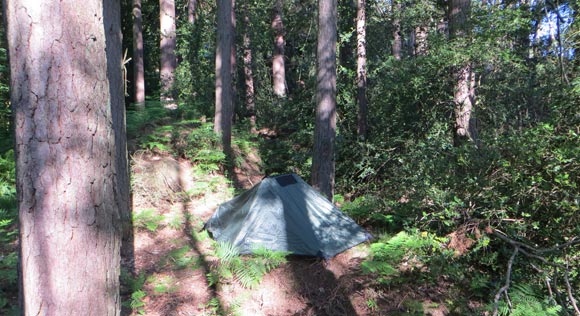 The morning after wild camping
After I set up my tent I headed back to my lobster pot for the Saturday morning low tide. I arrived back in Scarborough at 11.30pm and the low tide wasn't until 2.01am. It was a long wait and I realised that the 2.01am low tide was 40cm higher than Friday's 1.41pm tide. I was unsettled about wading in the ocean in pitch black with nothing but a head torch. I also noticed that the rocks were extremely wet and slippery as they don't have the sun to dry them out on an evening. I decided it wasn't worth the risk and headed back to the forest to get some sleep. I was disappointed but I think it was the right decision.
After waking at 8.00am, I packed my tent and heading back to Scarborough Pier for some fishing before Saturday's 2.30pm low tide. I only caught one undersize coalfish before Armed Forces Day started. I had no idea a large event was happening on the Saturday. The Pier was taken over by photographers and it was impossible to carry on fishing. I stopped and enjoyed the show from the coastguards.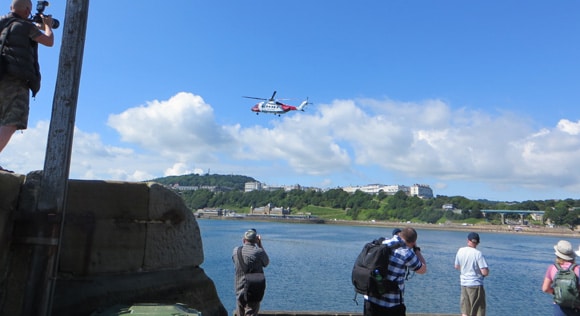 I packed away my fishing gear and headed back to my lobster pot. I scrambled over the rocks and struggled to locate my pot for 20 minutes. Eventually I spotted my pot and started walking towards it, trying to glimpse a peek of my haul from a distance. Sadly, my pot was bare…
I came home without a lobster or even a consolation crab. I didn't feast like a king on mackerel and I accidentally ripped my tent packing it away, but I'm still marking the 2 days as a success and my first microadventure.
Further Links for Sea Fishing